Head's up, there might be affiliate links ahead!
This year, I'm spending Christmas on the beach in Cabo, far from the snowy Toronto streets that I usually haunt during this holiday season.
It's been a remarkable year, filled with many life events that were both devastating and wonderful. It started off loosing my mother to cancer, but it ends at a romantic resort with the man I love. I guess you could say its bitter sweet, or even yin and yang.
The overwhelming lesson I've learned this year is that the best thing you can find in life is balance. We all suffer and we all die, that's the surest thing we know besides taxes. But between our birth and death we have an abundance of time and it's up to us to direct the day to day motion of it. Sometimes its bitter, sometimes its bliss, and sometimes it just is. I believe the key is to find beauty in the pain, gratitude in the bliss, and patience with what just is.
So my mother is gone, but her spirit lives on in me. I love her more in her death as I'm so proud of her for the way she left this world. With dignity, strength and a whole lot of courage that most I'm sure aren't capable of on their healthiest day.
Not a day will go by that I won't think of her and miss her, and certainly I'll bring thoughts of her with me to watch the waves crash along the sandy shore of the pacific coast, but I won't be sad. For even though I have lost, I have gained, and even though the year started off in pain, it now ends in bliss.
I'll choose to focus on the good this Christmas, and live the life my mother intended for me – a happy one.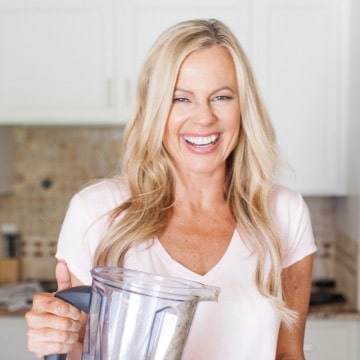 Caren is a certified yoga teacher, fitness instructor and author of The Fit Habit.  Here she shares simple, healthy recipes, home workout ideas and practical ways to foster mind + body wellness.