Head's up, there might be affiliate links ahead!
The other day I was walking through a drugstore on my way to get a prescription. I walked through aisles of cheap toys, plastic purses, and $3 flip-flops and felt a pang of disappointment about the world we live in.
Most of what I saw around me was garbage. I realize that trash to one could be a treasure to another, but there are limits. Needless items that break easily, serve no real purpose or simply take up closet space, inevitably spend some time cluttering up our lives and then become landfill.
While this may appear to be just an environmental issue (which you may or may not be concerned about), there's a deeper, more personal impact that stuff is having on our lives, and it's making us unhappier.
Research tells us that not only does an increase consumption stagnate our happiness, in some cases, it has the reverse effect, particularly around technological advancement.  Look no further than the young kids that are now growing up with iphones in their hands who are losing the ability to be present and empathetic.  What does that mean for the quality of their emotional lives?
So, are minimalists happier people?  I can't find scientific evidence on this yet, but anecdotally, I feel so much better when my home and purse are uncluttered.  I feel better about myself when my credit card bills are small and I'm able to pay them off at the end of the month.  I relish my well-worn jeans and yoga pants, but the patent leather pumps that I bought on the cheap that I rarely wear because they hurt my feet make me feel guilty every time I see them collecting dust in my closet.  I think my own experiences just underscore what I already know.  Less is more.  More happiness, more space, more freedom, more of myself.
I hereby make a solid vow to consume mindfully. Starting with my wardrobe that at least 20% goes unworn due to those "what was I thinking when I bought this?" moments I have when I try the garment on after I bought it.
Here's what that looks like for me right now:
• I'll choose my clothes carefully and buy only what I need
• I'll be mindful of my grocery choices and buy more frozen items that won't perish with my ever-changing schedule that doesn't always allow me the luxury of home-cooked meals.
• I'll share my magazines when I'm done with them
• I'll pass on my books I feel will be of value to others once I have read them
• I'll post a note on my mailbox to stop receiving flyers – let the message start at the messenger and work its way from there.
• I'll buy less makeup, shampoo, and lotions – opt for manufacturers that recycle their product containers (go MAC!)
• I'll donate or sell my multitude of purses
As I continue to move through this spiritual/creative evolution, I'll stay mindful of ways to increase simplicity and decrease junk and will share my little nuggets of wisdom!
XO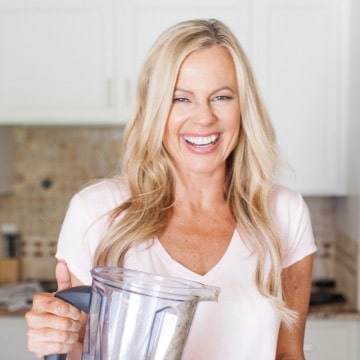 Caren is a certified yoga teacher, fitness instructor and author of The Fit Habit.  Here she shares simple, healthy recipes, home workout ideas and practical ways to foster mind + body wellness.