Head's up, there might be affiliate links ahead!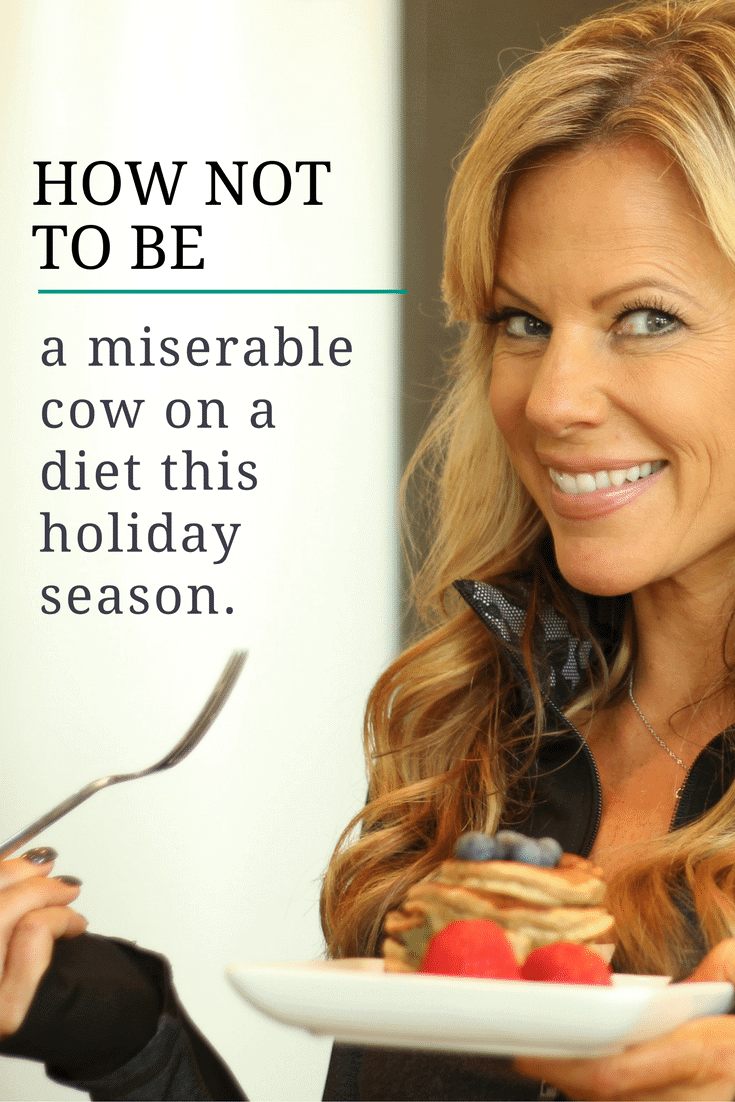 What's the first thing that comes to mind when you think about the Christmas holidays?  Your weird uncle Fred?  Mall madness?  Or food?  Seriously, eggnog, cookies, and crappy holiday party food is everywhere you look!  No wonder people joke about gaining 5 to 10lbs over the holidays and then feel like crap on Jan 1.
Sound familiar?
The key to long-term success is adopting a lifestyle mindset. Accept that you're not on a diet that has a start and an end, but that you generally (not always) chose foods that help your goals, not hinder them.   You're eating for a way of life and doing so means being able to incorporate holiday eating into your plan.
There's no doubt that the holidays present a unique set of challenges with all the delicious holiday baking and boozy parties.  And I bet you feel pretty badly about yourself when you over indulge.  But here's the thing…  unless you're out there night after night, diving face first into Christmas goodies, you're going to be okay.  And if you're looking to make fitness a lifestyle, then you need to make a little room for the things you love, or you'll be a miserable cow that will poop all the parties you go to.
Speaking of party poopers – have you ever seen this video???  F*&king hysterical.
I digress…..
So here's my advice to you for getting through this festive season and still be able to fit into your pants in January.
Control the meals you have control over. Stick with your plan for the meals you can.  That means prepping meals for lunch, making sure your breakfast (if you have one) is healthy and when your dinner is planned to be a festive one, be intentional, but not maniacal with the food that you chose to eat.
Control the portion sizes of the meals you can't control. A common mistake is not respecting the fact that quantity trumps quality when it comes to calories. So, even if you're enjoying some indulgent food, how much of it you eat will be the biggest determinant of the effect that indulgent eating has on you.
Get MORE sleep than normal.  Yes, we're all busy over the holidays, but scrap the malls this year, buy your gifts on amazon, then put your phone down and be lights out by 10pm every night!  I know you guys are sick of me talking about how important sleep is for fat loss, but it's true.
Continue to get your workouts in 100% of the time.  Now is not a time to say to yourself that you don't have time to get to the gym, because that becomes a slippery slope into not workouts and lots of bad food choices.  No time for the gym?  Workout in your bedroom.  That's what I do, and it works.
Say no to events that don't appeal to you.  If you're invited to a party that you don't want to go to, then say you have another commitment and you're done.  No drama.
Be realistic about the expectations you place upon yourself.  If your intention is to not have ANY wine or dessert, but everyone around you is raving about the cabernet and flourless chocolate cake, and you LOVE wine and chocolate, then you're going to be a miserable cow with impeccable eating habits.  Let me know how that works out for you.
Get support.  I have an accountability group starting Dec 17th to address that feeling of being all alone (and miserable) because everyone around you is enjoying the Christmas goodies, but you're trying to stay on track (and we know they'll be feeling crappy in January). Our group will be focused on practicing the 80/20 principle – 80% on track, 20% Christmas goodies.  Join us!
But, but, what about your goals? A few meals here and there aren't going to do anything to negate the results of all your hard work. Especially if you're paying attention to the size of your portions and how much you're eating as I suggested above. It's the constant partaking in large quantities of holiday treats that'll catch up to you. And you end up there only when you allow yourself to, by ignoring the choices you are making and the impact it is having on you physically and emotionally.
Give yourself permission to enjoy yourself. When it's well thought out and logical you're less likely to overeat as when you feel as if you're actually caving in and cheating and doing something forbidden.
Maybe your intention should be to simply maintain over the holidays. If you typically put on a few pounds of fat over the holidays, then even this is a huge victory for you. Keep active with your workouts, spend most of the time eating what you're supposed to be eating, and then factor in some extra off-plan food. Factor it in. Don't try to be perfect over the holidays, because it's an unreasonable expectation and it will make miserable.
Don't poop the party.
XO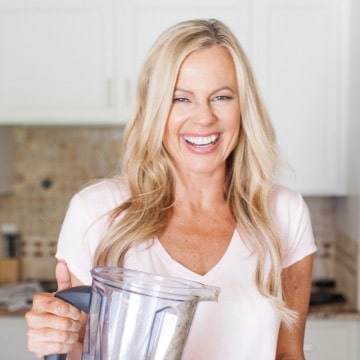 Caren is a certified yoga teacher, fitness instructor and author of The Fit Habit.  Here she shares simple, healthy recipes, home workout ideas and practical ways to foster mind + body wellness.