Head's up, there might be affiliate links ahead!
If you received a blog post from me this weekend, I apologize. It was a post from two years ago that randomly reposted itself. Fortunately, it was a good reminder for me to blog about my big news!
I had an interesting conversation with my brother this weekend about the steps I've taken in my professional life over the last three years. In case you haven't been with me since I started this journey in 2007, I left the corporate world in March 2008, exactly one year (to the day) that my mother died. Leaving my job in search of a more meaningful way of contributing to the world was a huge step for me and I didn't take it lightly. I thought I had left the corporate world behind for good when I divorced "the cubical existence". Ironically, I'm about to step back into the Silicon Valley lifestyle and I couldn't be more excited about it.
My brother asked me how I reconciled the notion of returning to a place I had so adamantly left. Naturally, there was a curiosity to know if I felt like it was a step backward. The short answer was no. The long answer was hell no.
Although the world I'm returning to is probably much the same, the person that I am is completely different, and the perspective I have has evolved enormously. When I stepped away from my corporate career, the intention was to find a way of authentically expressing myself and my values through my work. I also longed for greater flexibility, and a more creative work environment (fluorescent lighting and padded cubicles are not great sources of inspiration and tranquility for this girl). I left my structured work behind, lured by the temptations of entrepreneurship, and inspired by my practice of yoga.
And after traveling India, completing a yoga teacher training, starting, running and successfully selling my first business, here I am – back in the same place I started. Full circle.
But it's not the same.
Throughout my experiences of the last three years, I have learned that:
Entrepreneurship is an amazing path, but it's often obscure and tends to be lonely at times. In those most trying moments, you have to have a passion for what you're doing to keep you going. Starting a business for the sake of being self-employed (as I did) does not provide the same gratification and staying power as starting a business because you have a brilliant idea that keeps you awake at night. If you want to be an entrepreneur – make sure you've got lots of passion to fuel it.
Big companies have bigger footprints and a bigger impact than smaller companies. They have a greater potential to do good just as they have a greater potential to be destructive. The best place to influence the direction of corporate do-gooding is to lead from within.
I am a marketer by trade, a psychologist by training and a yogi at heart. I have found the perfect way to bring these elements together in a balanced, personally gratifying way, and it's ironically in a place I thought I'd never be happy.
Most importantly, I realized that what I longed for most in my corporate experience and what I loved most about my entrepreneurial venture was the freedom and independence it provided. I really miss working collaboratively but I don't want to be confined to a rigid schedule, a daily commute or a gray, padded cubicle. I want to work hard and be productive, but to do so from my home office and enjoy the freedom of taking my dogs for a lunchtime walk. My new position, and hopefully every role I take going forward will feed these very basic needs for location independence.
Taking the last three years to regroup, try new things, achieve a Master's degree and check things off my life list has brought me so much joy, perspective, and appreciation for life. I would have never assumed that I'd want to go back to a corporate environment, but that's what happened. Nothing ventured, nothing gained and had I not chosen to see what else was out there, I would have stayed with the status quo and continued to feel unfulfilled. And for me, that's not an option.
So wish me luck! I head back to Silicon Valley tomorrow where my whole journey began. This time, it's on my own terms and I can't wait to see how it all unfolds!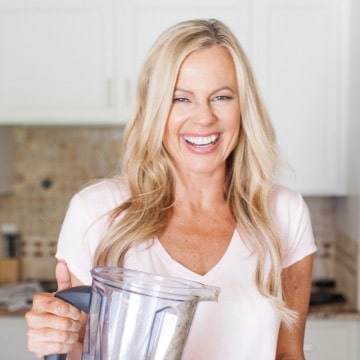 Caren is a certified yoga teacher, fitness instructor and author of The Fit Habit.  Here she shares simple, healthy recipes, home workout ideas and practical ways to foster mind + body wellness.