Head's up, there might be affiliate links ahead!
I was sooo juiced up today, that I'm inspired to bring you an update on my macrobiotic adventures.
Okay, so I can't cook and I've set off the fire alarm in macro-beau's kitchen twice already but beyond that, I have started to feel the benefits of my new eating habits today! At 11:00am as the rain hailed down outside my office, I felt a HUGE desire to get to the gym and burn off the immense feeling of energy I had and even made it to the studio for a hardcore 90 min. ashtanga class. There was a definite spring in my step and I felt lighter and happier.
So what have I been doing??
Breakfast
I replaced my special K in the morning with oatmeal (a good whole grain). Now granted this oatmeal of the instant variety, but at least its low in sugar and I'd sweeten it with a little natural maple syrup.
Lunch
I cooked enough of my whole grain concoction to portion 3 days of lunches. Each night before work I'd stir-fry a few pre-cut green leafy veggies from Trader Joes in a little peanut oil and rice vinegar and add that to a little Tupperware wonder with my whole grains. I'd add any dinner leftovers as well, and a little chopped up dill pickle or sauerkraut to aid digestion. I'd also pack a little fruit and some natural miso soup mix from Trader Joes as well – 45 calories per package, and really yummy and filling.
Dinner
This has a serving of whole grains and some sort of green veg, with or without some fish. Now, this isn't much of a deviation from the way beau and I typically eat, but we're more conscious about chewing, reading package ingredients, and where possible, eating food with no packaging at all.
Now I'm far from going "whole hog" on this macrobiotic adventure, and I'm not quite sure how the ying and yang stuff plays in yet, but so far just cutting out sugar and replacing with whole grains has been no pain at all. Well, there's a little more cooking involved, and I miss the convenience of the microwave, but I'm feeling a little retro nostalgia for women of yesteryear who would cook like this every day. The key to my success so far is that I've made the challenge fun.
Here's a sample of one of my "macro meals" I had for din din this week. Uber yummy, and not that difficult to make!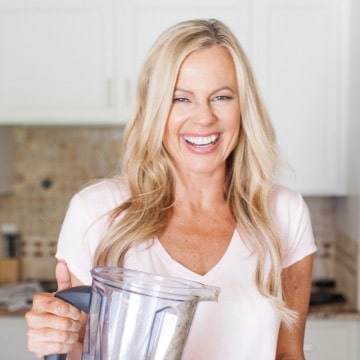 Caren is a certified yoga teacher, fitness instructor and author of The Fit Habit.  Here she shares simple, healthy recipes, home workout ideas and practical ways to foster mind + body wellness.