Head's up, there might be affiliate links ahead!
I read a great book recently and if you're a type-a like me, with a penchant for never slowing down, then you'll appreciate it, too. The Rushing Woman's Syndrome by Dr. Libby Weaver is a bible for any woman who has unexplained weight gain.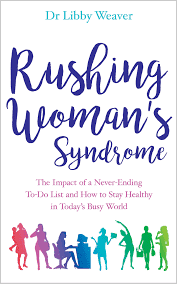 Belly Fat & Stress
Stress plays havoc with our hormones and our hormones have a LOT to do with whether or not we hold onto fat. If you've found that your eating and exersize habits have stayed the same, but your weight keeps going up and up, particularly around your waist and on your back, it's very likely that your cortisol levels is the reason. When we're stressed, either because of big stressful moments in life, or low grade ongoing stress, it can pack on the pounds.
The important thing to realize here is that unexplained weight gain is a wake up call. That's your body telling you that something's not right and it's time to slow down and pay attention to your health before it gets worse.
This week's podcast will give you glimpse into the way cortisol impacts your weight due to stress, but more importantly, what to do about it!
Want to learn more about reducing stress in your life?  Read on:
Listen to the podcast now and please, leave a review on Apple Podcast if you liked the show!
To your health!
Caren
Caren is a certified yoga teacher, fitness instructor and author of The Fit Habit.  Here she shares simple, low carb recipes, quick home workout ideas and practical ways to foster mind + body wellness.