Head's up, there might be affiliate links ahead!
I'm so over this week.
It's been a hairy one, to say the least, but fortunately, tomorrow is Friday, and that's my cue to head north to the bay area for a little much-needed girl time.
Have you ever moved to a city and just clicked with it immediately?  That was my experience when I moved to Silicon Valley in the dead of winter from my hometown of Toronto.  It was miserably cold when I left TO, but when I landed at San Francisco airport, the sun was shining all the way down 101 as I drove to my temporary abode in Milpitas, CA.  I was so full of hope and excitement about my new life and it was awesome.
I lived in the bay area from 2006 to 2009.  I adored it there, met some amazing friends and completely transformed who I was into a better being on all fronts.  I knew that was my home and I would never go back to Toronto.
But then the hubs and I decided to take an adventure to SoCal, and we've been here ever since.  After a 4-month stay in Solana Beach (which was more like an extended vacation), we ended up buying a home in LA, and now here we are.  We've been here 4 years this month.
The crazy thing is, I've never felt at home here.  It's always felt like a place where I'm "staying" until we get ourselves back home to the Bay Area.  I've met some really great people here and my best friend moving here from Toronto is just a cherry on top of a great experience, but really, it's always felt like a transitional city to me.
The reality is that we're not leaving LA for a while (much to my chagrin).  Maybe never.  So every once and a while, I feel a need to head north to my "real home" and reconnect with dear friends, enjoy the gorgeous outdoors and just soak up the vibe of an amazing corner of the world.
I can't wait!!!
Have you ever felt totally connected to a city? 
Anyway, on to this Pad Thai.
I actually made this a few weeks ago, but I'm only now doing a camera dump from my photo shoot.  The lighting was not the greatest, so I'm not super happy about the images, but the pad thai was out of this world!!
Now as the weather is starting to warm up (okay, that's on point in favor of LA living), I'm dabbling in the raw stuff that I promised you back in January.
The noodles do require a Spiralizer, but I highly recommend having one of these in your kitchen anyway.  They are way too much fun to use (says the girl who clearly doesn't get out much)!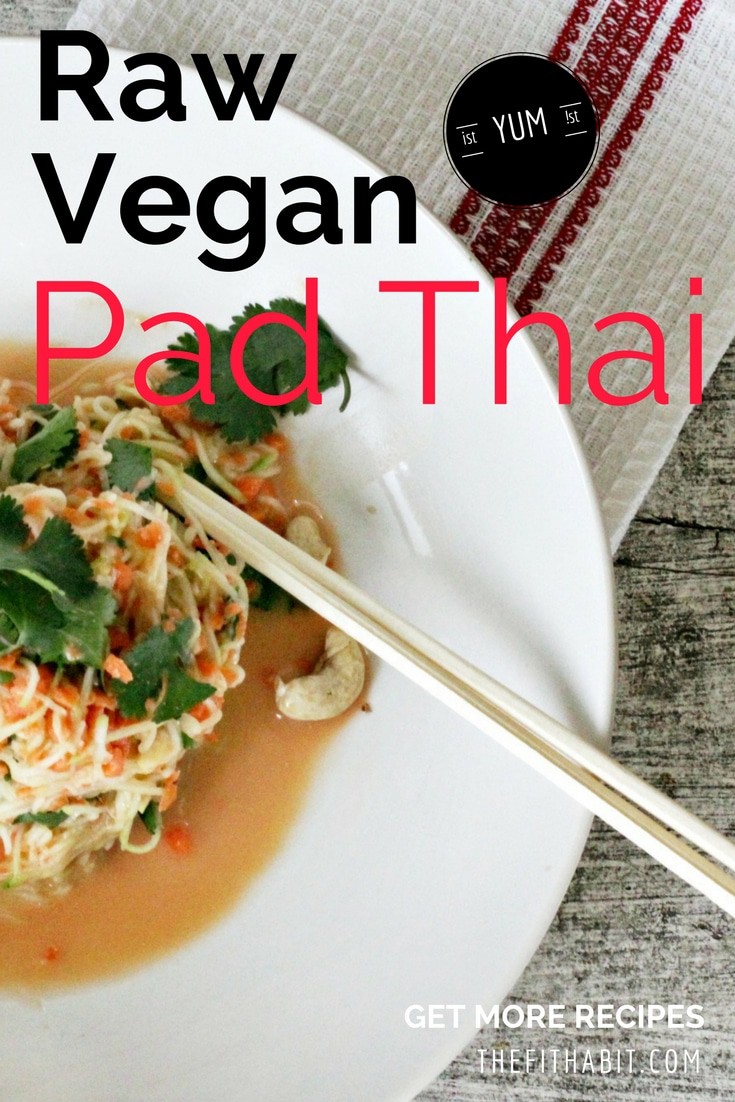 Raw Vegan Pad Thai Recipe
A quick and easy meal with a VERY impressive taste. A great way to get your veggies in!!
Ingredients
2

large zucchini

2

large carrots

1

T

ponzu or soy sauce

1

T

lemon or lime juice

1

t

hot sauce

optional

1

T

mustard

I used a flavored one to be fancy

1

t

fish sauce

optional

1

T

of PB2 powdered peanut butter

or the real stuff

2

T

raw

unsalted cashews

1

t

minced ginger

1

t

minced garlic

1/3

cup

cilantro
Instructions
Spiralize your zucchini and finely chop the carrot (I just popped it in the food processor for a quick second)

Chop the cilantro

Make the sauce

Add all the remaining ingredients (except cashews and cilantro) to a small bowl and mix well. until fully combined.

Add the sauce to the zucchini and carrot mixture and garnish with cilantro and cashews.