Head's up, there might be affiliate links ahead!
It's been a month now since I started my skeptic journey into unbridled yogihood.
The one thing I know for sure is that the road to Nirvana is paved with a MasterCard! I think I've invested about $100 in classes, $65 in books, and I'm about to sign up for an 8 wk meditation program that will bring my total investment soaring over $400. Yikes, I thought this pursuit was supposed to reduce stress, not add to it?
In terms of progress, I'd have to say there is definitely something to be said for almighty pretzelhood. From a physical standpoint, there has been a marked improvement in my sciatic nerve issue. The tightness in my right hamstring has really loosened up. I still feel it if I'm sitting for a while, or if I run, but at least I still can run! Last month I had all but given up on my precious low maintenance sport, but I'm seeing some glimmer of hope that I can continue.
I've also felt a marked improvement in my lower back tension as well as reduced stiffness in my neck. (My shoulders like to cuddle up around my ears when I get stressed.)
Improvement in the emotional/mental realm is a little less obvious or measurable, but I will admit I have noticed a few subtle changes. The most important is that I've made room for change. Every morning, (well, okay mostly every morning) I've carved out some time as the coffee brews up my daily dose of personality to sit and meditate. Now, whether my mediation itself has been successful is questionable. Mostly, I just sit and allow random thoughts to ricochet around my brain, but I do have a few fleeting seconds of complete mental quiet time here and there.
The results of my meditation are really not significant at this point, but I have managed to stay more mindful throughout the day about being in the moment. When I find my brain racing off to tomorrow, next week or where I'll be when I'm 47, I intercept with a simple question – how am I doing right this minute? Consistently, that answer has been anywhere from just peachy to brilliant, but never has it been negative, which is encouraging!
Am I feeling more centered, more in tune with my higher being? Am I even convinced I have a higher being? Nope. But there's 11 more months to go before my committed patience runs out, so we'll see what the next month brings.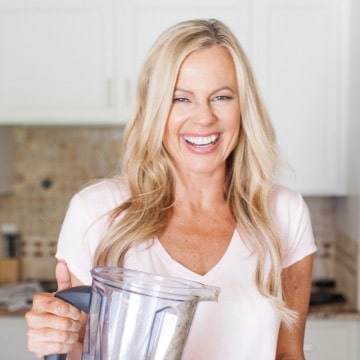 Caren is a certified yoga teacher, fitness instructor and author of The Fit Habit.  Here she shares simple, healthy recipes, home workout ideas and practical ways to foster mind + body wellness.