Head's up, there might be affiliate links ahead!
If you're a fan of ginger and turmeric together, you're going to love them in this butternut squash soup.  It's the perfect fall-weather starter or main course.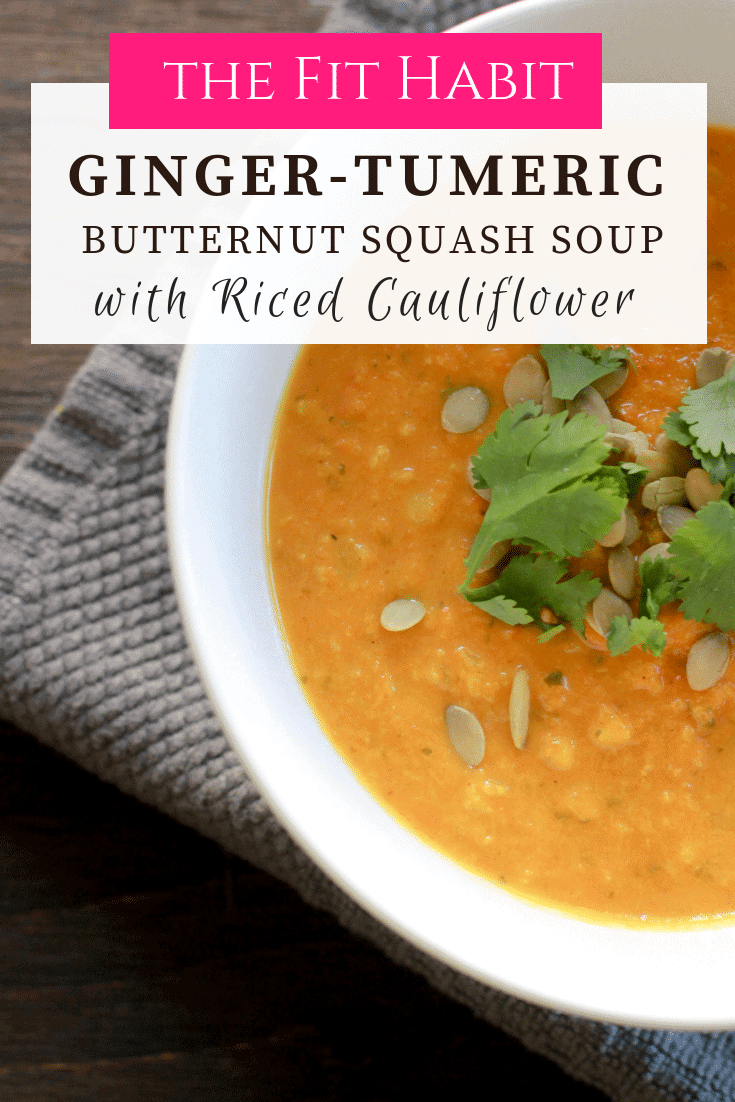 Hey Guys!
I can't believe it's already mid-October and the holidays are just around the corner.  Typically, my husband and I rent a house in Palm Springs for the week of Thanksgiving and we spend our time floating about the pool, soaking up the sun. We always rent homes through Airbnb rather than booking hotels because we can bring our dogs, make our own food (way healthier and more affordable) and use the pool when we want in absolute peace and quiet.  If you've never used Airbnb before, I highly recommend it!  You can use this link to get $40 off your first booking.
Anyway, this year, we decided to do that trip a little early to get better weather and more affordable rental rates.  By the time this post goes live, I'll already be sipping Mai Tai's by the pool.  If you're interested in my fit-food guide to Palm Springs as well as the best places to go for dinner and cocktails, head here.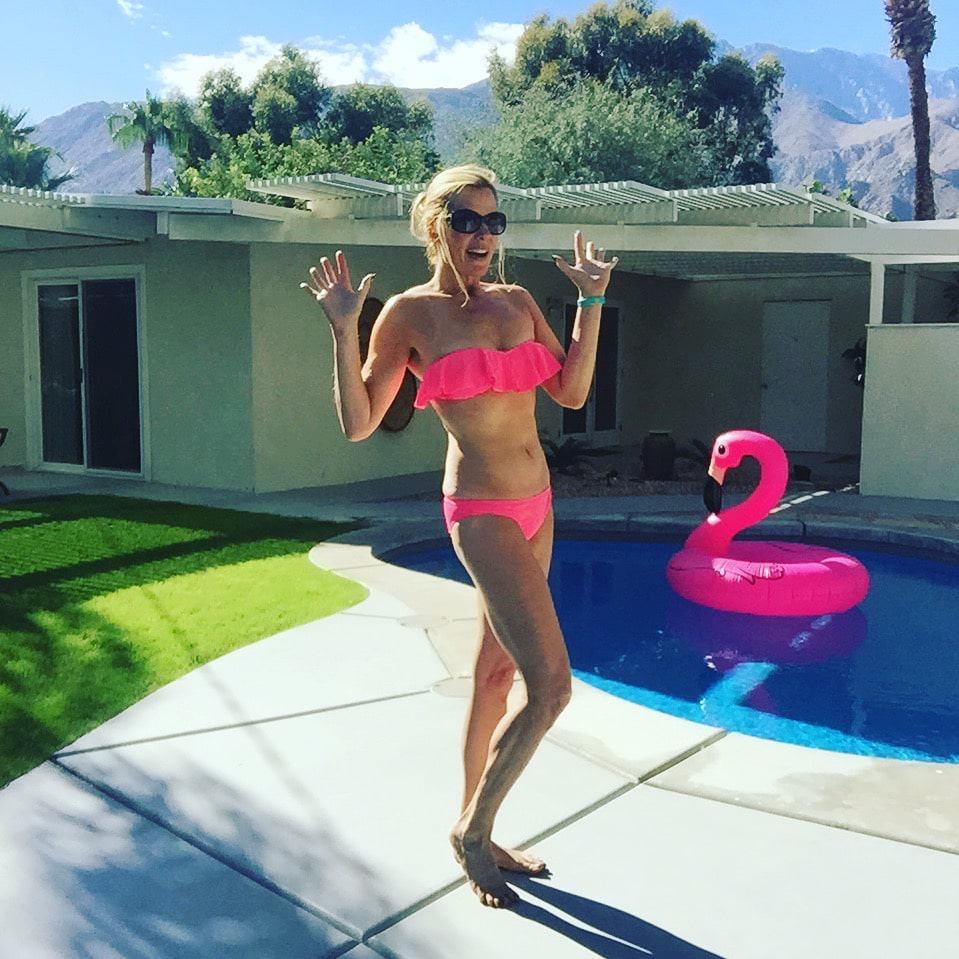 So that leaves us here in Silicon Valley for Thanksgiving and I'm already starting to test recipes for a "Friendsgiving" dinner that we plan to attend.  Soup is the kind of thing I love to bring to potluck dinners because I just make it, let it cool, then bring the whole pot with me wherever I'm going.  I'll typically volunteer to bring soup and a cheese tray because under no circumstances does anyone want to trust me with making a turkey.
Ginger and Tumeric – Anti-Inflammatory Ingredients You Should Know About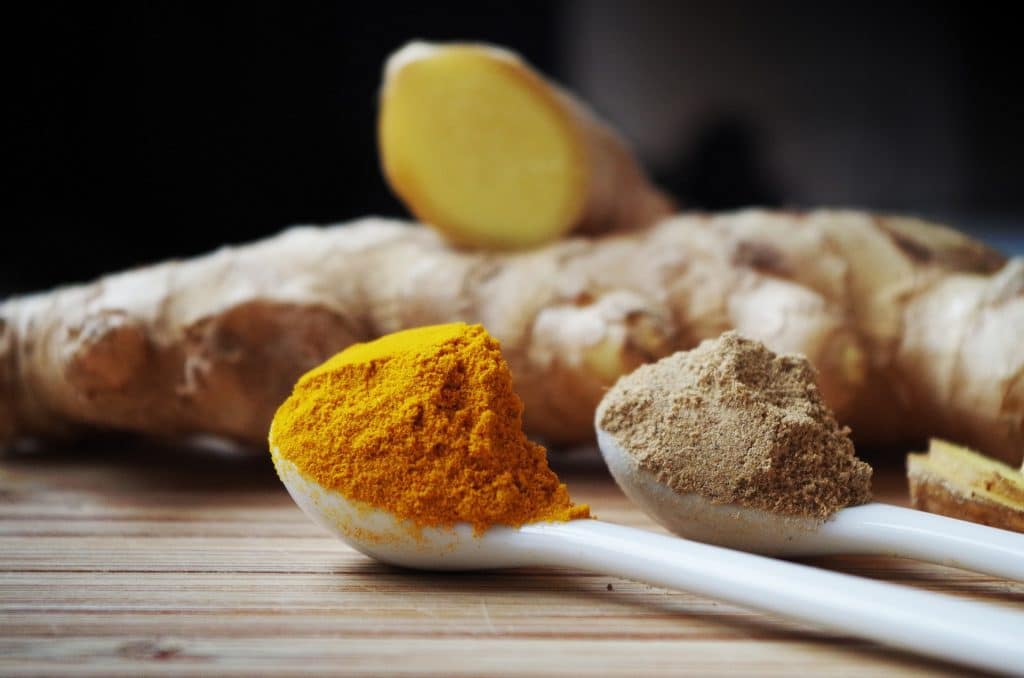 Here's the thing, so much of what we expose ourselves to today, from household and airborne toxins to the stress we deal with at work and home, keep us in a constant state of inflammation.  Add to that any foods you're eating that you might have an unknown intolerance to, and you've got a recipe for chronic inflammation that can lead to cancer, heart disease or even depression.
By eating anti-inflammatory foods, you naturally reduce your body's inflammation levels and reduce a lot of potential health risks, not to mention feeling more energetic and less bloated.
Sold yet?
This soup is not only anti-inflammatory because of the ginger and turmeric, but also because it's free of common food irritants like dairy, soy, nuts, and eggs.  Instead, it's got lots of healthy fats to keep you full and satisfied and the added cauliflower is a great way to sneak in extra fibrous veggies without anyone knowing!  It also adds a great texture to the soup (makes it extra thick).
Can I ask a favor? If you make the recipe, would you mind dropping me a comment below and letting me know what you think?  I always love to hear how readers feel about the recipes I share.  I'd love to hear from you!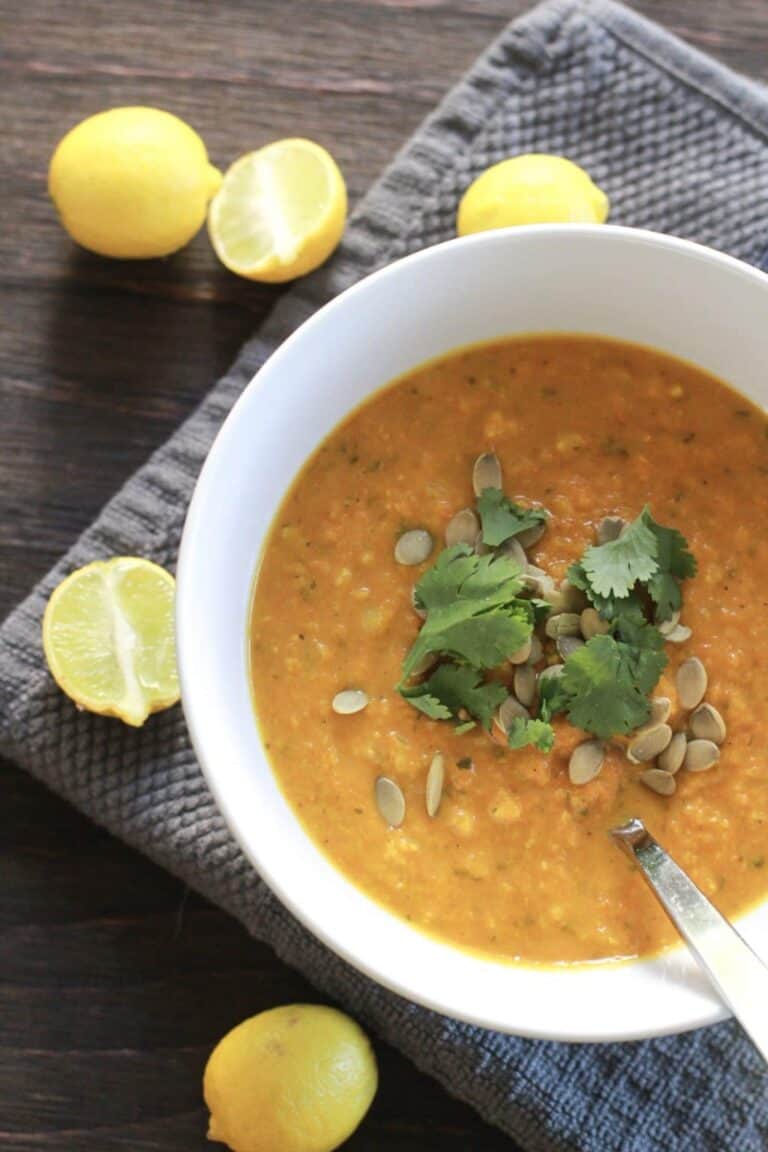 Can I ask a favor? If you make the recipe, would you mind dropping me a comment below and letting me know what you think?  I always love to hear how readers feel about the recipes I share.  I'd love to hear from you!

Ginger Turmeric Butternut Squash Soup With Cauliflower Rice
A hearty, satisfying soup that's great for dinner or lunch throughout the week.
Ingredients
1

onion

finely chopped

1

red pepper roasted

8

carrots

chopped

½

cup

fresh basil

chopped

1

tablespoon

of pureed ginger or1 tablespoon fresh ginger

finely minced

5

cups

vegetable soup stock

4

cups

cauliflower rice

½

cup

real coconut milk

the stuff in the can, not the stuff in the big cartons

1

tablespoon

of apple cider vinegar

1

tablespoon

lime juice

½

teaspoon

nutmeg

½

teaspoon

cinnamon

1

bay leaf

Salt and pepper to taste
Instructions
Preheat oven (or toaster oven) to 425.

Cut the red pepper in half, remove seeds and place halves directly on the oven rack.

Roast for 10 to15 minutes until soft and slightly brown.

Sauté the chopped onion in a little soup stock for a few minutes until soft, then add chopped carrot, the remaining soup stock, and the bay leaf.

Cover, bring to a boil and then simmer for about 20 minutes until the carrots are soft.

Add the frozen cauliflower rice

Once the pepper is roasted, remove from the oven, set to cool, then chop into 1-inch pieces.

Add pepper to simmering soup and remove soup from heat.

Remove bay leaf and add coconut milk and fresh basil.

Using an immersion blender, puree soup until the desired level of creaminess while adding in lime juice, vinegar and seasoning to taste.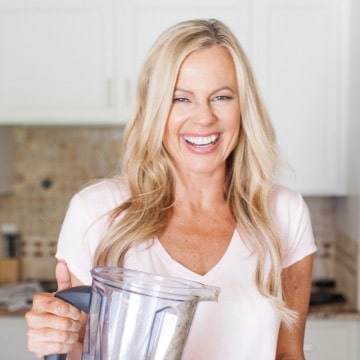 Caren is a certified yoga teacher, fitness instructor and author of The Fit Habit.  Here she shares simple, healthy recipes, home workout ideas and practical ways to foster mind + body wellness.