Head's up, there might be affiliate links ahead!

My apologies up front for being MIA for the last few weeks! Since coming home from India, life seems to be a whirlwind of wedding plans, seeing friends and trying to get the bod back in shape after too long of a hiatus from regular workouts. The peculiar thing I've noticed is a new apprehension for hitting the mat for a little much needed yoga. I'm not sure if I'm rebelling from yoga overload on my trip, or if I'm now adjusting to very little alone time which is typically my inspiration for yoga/meditation practice, but I'll need to carve out a new habit soon or I fear I'll go mad!! Yoga has become a non-negotiable for me…..my name is Caren, and I am a yoga addict.
But finally, this afternoon, while beau-soon-to-be-hubbie was out at a meeting, I rolled out my mat, and started to simply flow from whatever pose inspired me. My body cried with delight as my recent weight lifting and obsessive cardio has left me really tight and wired. As I hung in downward dog, I realized something about why I've been so reluctant to practice lately.
When I was in India, my ego was thwarted by the yogi's around me that far outweighed my level flexibility and strength. During yoga school, I was clearly one of the more novice students, with weak upper body strength, and limited flexibility. I would watch the amazing women around me merge effortlessly into bird of paradise, and suddenly, my faith in my own ability to practice, and teach were overshadowed.
They say that ego has no place in yoga, but alas I'm human, and I have a tendency to be competitive. The good news is that somewhere along those grueling few weeks of training, I gave up trying to be the best at any particular pose. I saw my own strength in -presentation style and verbal cues. Then during a wee-hour-of-the-morning chat with my insightful roomie she stated that she recognized her own weaknesses as compared to some of the other students, and quickly admitted to herself that she was okay not being the best. Her words made so much sense, and suddenly I felt okay with my own weaknesses. To this day, I know we were roomed together for a reason!
After yoga school was done, and I had achieved my hard earned certificate, I traveled India and finally made my way back to Rishikesh for a little more yogic indulgence. This time, taking regular classes in local studios amongst regular travelers, I assumed my abilities would SHINE!! Here I was a certified yoga instructor, so surely I'd be better than most, and I was better than some…few, but there was always more that were better than me. I also struggled to get through an ashtanga primary series. My back ached, my legs and hips were tight and unforgiving, and I became incredibly frustrated at my inability to look beyond all this and achieve a state of non-thinking. Instead, I would merely stress over why my progression was so painfully slow, and even regressive at some points!
And I wonder why I've been avoiding my matt.
Yesterday, I had a chat with a fellow yoga school graduate who lives in Florida. She's been back only two months now, but already she's teaching and enhancing her practice. I listened to her big plans to teach full-time, then privates, then a studio. I realized it was time for my own progression to take place.
So I rolled out my mat, took a long, yummy tadasana, and it was there in that moment as I stepped back into downward facing dog, that I realized…. Yoga is not my workout, yoga is not a stretching competition, and it's very likely that it's not my career either. But yoga is a foundational aspect of who I am, and how I live. I don't have to put my foot behind my head, and I don't have to balance better than anyone else to be a real yogi. I simply have to push my own limits…how little those might be, challenge my own flexibility, and open my own heart center to make my practice a worthwhile endeavor.
Namaste
PS…this weekend I'm off on another yogic excursion to the esalen center in Big Sur California to learn from some of North America's greatest yogis! I promise to keep the ego in check, leave the competitive nature in the car, and report back on what I'm sure will be an awesome experience.
Have a great week!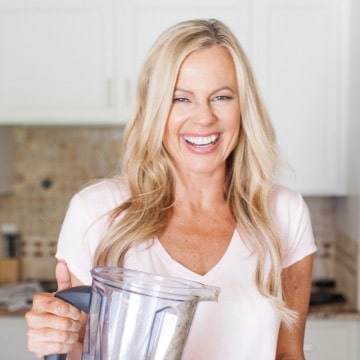 Caren is a certified yoga teacher, fitness instructor and author of The Fit Habit.  Here she shares simple, healthy recipes, home workout ideas and practical ways to foster mind + body wellness.