Head's up, there might be affiliate links ahead!
While I sit here writing this blog post and enjoying my French vanilla infused coffee on this drizzly Sunday morning, I'm supposed to be in "yoga school". It's a two-day weekend YogaFit workshop that I signed up for as a refresher course on the training I did in India in 2008, but more importantly, it was a heart-tester.
After I left India, I didn't feel the confidence nor the desire to take up a teaching practice, but on some level, I thought I should. My relationship with marathons is no different – sounds great in theory and the vision of the finish line is quite romantic, but the process or "journey" if you will, seems as inviting as root canal.
I've always stood behind the idea of pushing through fears to get where you want. But when I lay in bed this morning at 6:30am wondering whether it was really worth it to sit through day two of a painfully boring class, I struggled to identify whether it was fear or an honest lack of interest that was keeping me under the covers.
Yoga is one of the few concepts in this world that I stand behind with unwavering confidence. So naturally, being a career driven Type A personality currently seeking more satisfying work, I assume that this is my passion and therefore I could/should consider making a living from it. But when I sit through these teacher trainings and endure the boredom of learning how to teach someone to stand on their head, I fight with my romantic idea of how cool this "should" be. I'm a cerebral person, I really don't like to touch sweaty people and I'm not a fan of instructions or mechanics, so why do I keep torturing myself with this training? Is my interest a legitimate desire or simply a fantasy that doesn't need to come true?
I think the real answer is somewhere in the middle, and most likely why I pen this blog. Teaching yoga is so much larger than pose alignment and how to get into a headstand. It's about life, and how to approach it mindfully, genuinely and with an open heart. I think that's the yoga I'm meant to teach… for now. I also suffer from the human condition of projecting myself into a vision of how I'll be successful at this endeavor at a later time. I'll be a better yogi when I can teach, rather than just embracing the student that I am right now and giving my full attention to my practice as it currently exists. Have you ever done this?
As for the marathons….I've confidently filed that dream in the "not in this lifetime" folder.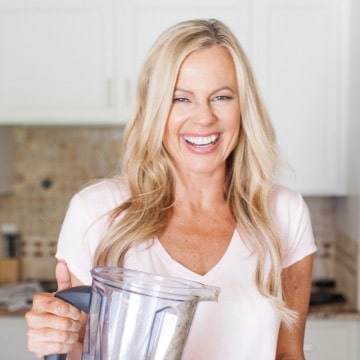 Caren is a certified yoga teacher, fitness instructor and author of The Fit Habit.  Here she shares simple, healthy recipes, home workout ideas and practical ways to foster mind + body wellness.