Head's up, there might be affiliate links ahead!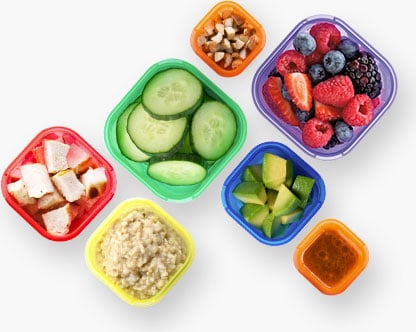 If you're following any of the meal plans that are included with Beachbody on Demand but you don't have the containers handy, not to worry, they equate to simple measurements.
Here's how the Beachbody Container System breakdowns:
Green Container = 1 cup
Purple Container = 1 cup
Red Container = 3/4 cup
Yellow Container = 1/2 cup
Blue Container = 1/3 cup
Orange Container = 2 Tablespoons
So simple, right?
If you just that person who wants the containers for visual support, you can also grab them from Amazon very inexpensively.
Now you've got all the tools to change your life.
Now that might sound completely over-stated but stay with me for a second.  As someone who once weighed over 200lbs, I know what it feels like to be in a body that you're not proud of.  I know the pain of feeling less-than (or even worse, when someone else makes you feel less-than).  That stage of my life wasn't great.  I felt ashamed, depressed, even invisible at times.
Beachbody wasn't around when I finally decided it was time to change, but I wish it was.  I started my journey with small steps like going for walk/runs and just making better food choices and over time, I transformed.  It wasn't easy, I didn't always get the support I needed, and some people actually felt resentful about my transformation, but you know what?  It was hands down, the best thing I ever did for myself.
Here's why:
My body transformation turned into a dating transformation because I stopped accepting whatever male attention I could find.
My body transformation turned into a career transformation by having the confidence to go back to school, get an undergrad, then a master's degree.
My body transformation turned into a life transformation when I was offered a great job in California and moved here during a freezing, gray Toronto winter.
My body transformation turned into a love transformation when I met a fit, active, successful guy who I felt confident I deserved and ended up marrying him (still going strong 10 years later)
My body transformation turned into a spiritual transformation where I now feel so blessed to be where I am that I want to help others see a path for themselves, too.

This is me at 19 years old.

This is me at 45 years old.
Like I said before, you now have the tools to change your life.
Beachbody on Demand isn't the only solution out there, but it's the one that works great for people who don't have the time or desire to go to a gym.  There are so many workouts in there that there's literally something for everyone, regardless of how advanced or beginner you are.
If you want to try this (free for 30 days) fitness platform, you can sign up right here.  But if you really want to make sure change happens this time, then consider signing up to do a program with me as your virtual coach and support.  With the purchase of a challenge pack (Beachbody on Demand + Nutritional Support), you get my personal support and encouragement for a full year.
With accountability, structure and support, there's no telling what you're capable of.  Are you ready to find out?
Caren is a certified yoga teacher, fitness instructor and author of The Fit Habit.  Here she shares simple, healthy recipes, home workout ideas and practical ways to foster mind + body wellness.