Head's up, there might be affiliate links ahead!
First I'm going to clarify what a WOD is, because honestly, I only learned what it meant last year. It's a "Workout of the Day" – aka #WOD.
But I'm going to take this post a step further and make it WOW – workouts of the week. No coincidence that's I'm WOWing you, right? Ah, shucks. Thanks!
No, but seriously – I think I"m going to share my weekly workouts here because:
People ask me.
When I tell them, they rarely believe that I actually work out in my bedroom.
I need the accountability and record keeping anyway.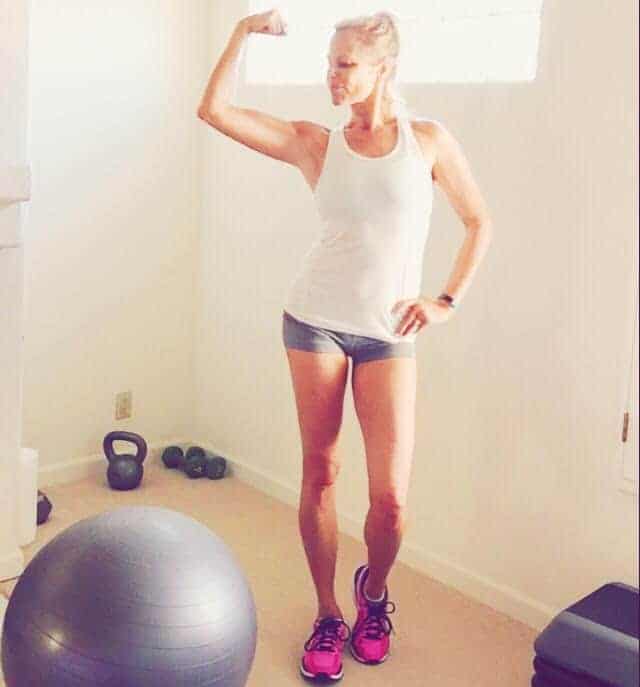 Nike Compression Shorts // White Tank // Best Pink Running Shoes Ever
So I'll start by saying that I've been light on cardio and heavy on the weights the last two months since I had my body composition analyzed and it turns out I'm a blend of 27% body fat with the remaining bits comprising of muscle, skin, water, poop and such. So yeah, 27% was a bit of a shocker for me. I didn't think it was that high (since I still rock skinny jeans quite well).
I've realized that my issue is more a lack of muscle than an overabundance of fat. I'm actually a-okay with my fat levels (okay, I could do with a smidgen less), but I'm losing muscle as I age and that's not a good thing. PS – you are too, so listen up ladies.
Why You Need Muscle Building Workouts
Muscle is so critical not just to staying lean (and perky), but also for bone density, hormonal health, personal strength, and posture. There's no downside to having muscle, so it should find it's way to your near years goals. It's a big goal for me, and I'm hoping to realistically gain half a pound of muscle each month over the next year. That's 6lbs of muscle in 12 months. It may not sound like a lot, but the average woman who lifts gains between .5 and 1lb per month and my genetics are not favorable to muscle gain.
So with that said, here's what I accomplished in the last 7 days. I've been deviating from my regular online program because the instructor is a total beef head and I can't deal with his "bro-talk". I generally think it's good to mix things up a bit. It keeps things interesting.
Monday – chest (Bodybeast) with plyometric moves between sets (squat jumps, side lunges, burpees and high knees. I typically do reps of 12 between each weight set. I call this cardio on the fly and it really helps to elevate heart rates and therefore burns more fat.
Tuesday – Upper body (from 21 Day Fix Extreme)
Wednesday – cardio with weights (From Hammer & Chisel)
Thursday – Off Date night (woo hoo!)
Friday – Back – Bodybeast (with plyometric jumps)
Saturday – Upper body (21 day Fix Extreme)
Sunday – Legs (21 Day Fix Extreme) + 35 min sprints on the spin bike
So that's it! How did your week of workouts go? And in case you're wondering, there's no way in hell I'd get a workout in 6 days a week if I had to drag my ass to a gym. I don't think that's necessary to get a well-rounded routine in and you don't have to have a ton of equipment at home, either. This is my gym (and I only typically use half of these weights in any given workout).
You can find all the workouts I listed on this site – it's like the Netflix of workout program (and it also has meal plans, music playlists etc), but if you're not up for weekly $2.99 investment, you can find free workouts on Youtube (you just have to be really careful about quality and safety).
Caren is a certified yoga teacher, fitness instructor and author of The Fit Habit.  Here she shares simple, healthy recipes, home workout ideas and practical ways to foster mind + body wellness.