Head's up, there might be affiliate links ahead!
This low carb cauliflower casserole is SUPER easy to make and it tastes really good!  Please don't mind the horrid photography skills – I had to grab a photo before it was all gone!
Low Carb Cauliflower Casserole – a Cheese Lover's Dream
If there's one thing I can tell you beyond a shadow of a doubt – this casserole tastes way better than the photo.  It was one of those creations that was so surprisingly good that it was devoured shortly after coming out of the oven.
Super Easy to Create
I love this recipe because it's super simple to pull together.  If you can chop a cauliflower into bite-sized pieces then you've mastered the hardest part.  The rest is simply a matter of mix and bake.  You could definitely make this ahead on a weekend and even partially bake it.  Then, when you get home from work on a weeknight, you simply need to pop it in the oven for the rest of the cooking time and you're good to go.
3 cheeses + Nutritional Yeast
The recipe calls for 3 different cheese to capture that ultimate gooey texture, but I've also included nutritional yeast to give it just a little more nutty, creaminess.  If you don't have nutritional yeast (you're not alone on that), then just leave it out.  It's not a necessary add.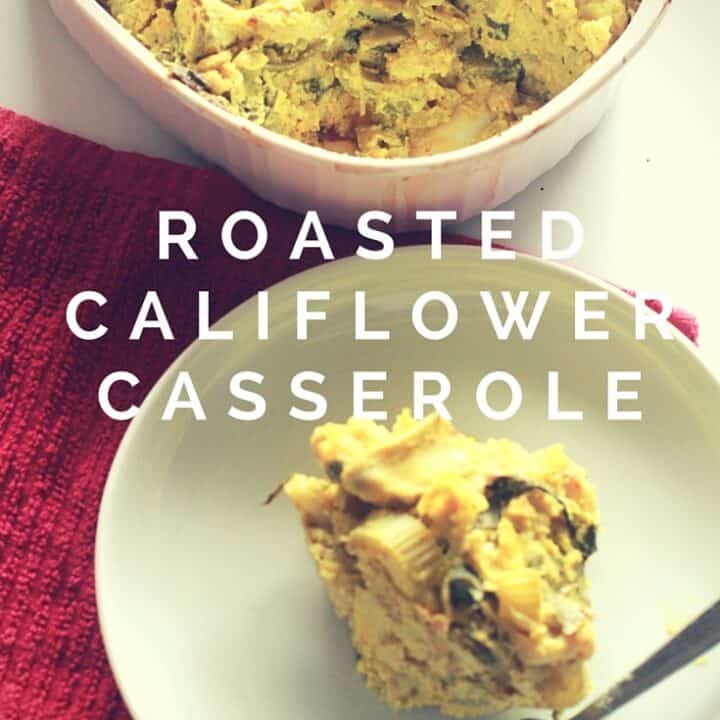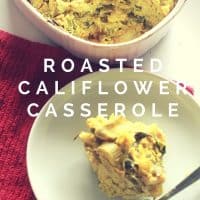 Cheesy Roasted Cauliflower Casserole Recipe - Low Carb
Great for cold Sunday night dinners. The leftovers will last all week!
Ingredients
1 small cauliflower head roughly chopped
1 - 2 cups celery, choose depending on how much you like the flavor or eliminate altogether
2 Tablespoons coconut oil
1/4 c cream cheese
1/4 c ricotta cheese
1/2 tsp salt
1/8 tsp ground black pepper
1/4 tsp ground nutmeg
1/4 tsp garlic powder
1/4 tsp paprika
2 cups fresh spinach
1 14 oz can artichoke hearts, drained and chopped
2 eggs
3 Tablespoons Nutritional Yeast
1/2 cup grated parmesan cheese
Instructions
Chop the cauliflower & celery coarsely and then add to a microwaveable dish. Microwave (or sauté if you prefer) for about 10 mins.
In a large bowl, add the rest of the ingredients. Don't worry about mixing yet.
Once the veggies are done, add them to the large bowl of the remaining mixture. The heat from the veggies will melt the cheese and allow everything to mix well
Bake at 400 for about 25 minutes.
Want more Cauliflower inspired recipes?
Whole Roasted Cauliflower – A Simple, Fun Way to Eat Veggies
Easy Artichoke Soup with Cauliflower – Paleo, Dairy & Gluten Free
Caren is a certified yoga teacher, fitness instructor and author of The Fit Habit.  Here she shares simple, low carb recipes, quick home workout ideas and practical ways to foster mind + body wellness.