Head's up, there might be affiliate links ahead!
Happy Monday! I'm back, feeling refreshed, but I still haven't decided what the heck I'm going to do about June. And no, I don't expect you to have a clue what I'm talking about.
But I digress….
I took one look at this recipe last week and new I had to "bastardize" it (as Meghan would say). It's an awesome paleo-based recipe, served with chicken, and since I'm not paleo and I don't eat birds, I figured it's fair game to be cleaned up and defatasized (and yes, I made that word up).
So, I can't speak to the end result of the "real" recipe as created by Juli, but I will say that my concoction was so freakin amazing, I think my husband fell in love with me all over again. I let him taste the pesto before I shot this picture and his eyes bulged with shock like he couldn't believe I was capable of making something so awesome. Then he agreed to take the dogs out when it was my turn, so I think this stuff has magical powers to make husbands do shit.
I should bottle and sell it, right?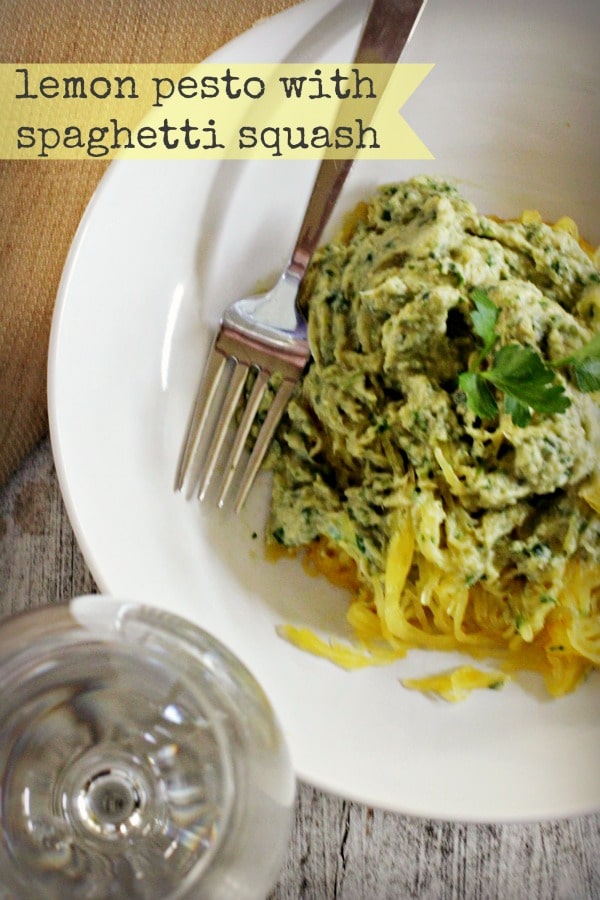 Healthy Creamy Vegan Lemon Pesto with spaghetti squash
Recipe Type: dinner
Cuisine: vegan, clean and healthy
Author: caren
Prep time: 10 mins
Cook time: 10 mins
Total time: 20 mins
Serves: 4
This is a fantastic and SUPER easy recipe to whip up. Serve it with your favorite protein. I toasted some tempeh with mine.
Ingredients
2 cans of artichokes
1 shallot
2 garlic cloves
1 T tahini (use cashews, peanut butter or walnuts if you don't have a clue what this is)
1 T lemon juice
1 T nutritional yeast (optional if you absolutely must)
½ c basil
½ c parsley
1 big ass spaghetti squash.
1 T olive oil
4 or 5 T of veggie soup stock
salt and pepper
Instructions
Preheat the oven to 450.
Cut the squash in half lengthways and put both pieces on a baking sheet, cut-side down. Roast for about 30 mins or until it looks pretty baked (not chard).
Meanwhile, fire up your food processor and put the onion and garlic in there. Give it a whirl, then add it to a pan with a little olive oil.
After a minute, drain the two cans of artichoke and add in. Stir-fry for a few minutes until they start to brown.
Add the artichokes to the food processor with the tahini, nutritional yeast, lemon juice and seasoning. Once you have the taste where you want it, add the basil and parsley and puree until well mixed.
Use the soup stock to thin the sauce to your desired thickness
Now that the squash is roasted and cool enough to handle remove the seeds then scoop out the spaghetti-like guts and portion into serving dishes. Add a generous dollop of pesto to the squash and garnish with a little something fancy.
Caren is a certified yoga teacher, fitness instructor and author of The Fit Habit.  Here she shares simple, healthy recipes, home workout ideas and practical ways to foster mind + body wellness.