Head's up, there might be affiliate links ahead!
This weekend we hosted a little informal dinner party for my best friend's parents who are visiting LA from small-town Sascratchybum (you may otherwise know this area as Saskatchewan, Canada).
Given that these lovely people are probably used to typical meat and potato fare rather than the particulars of my own diet, I  decided to steer clear of all things kale and quinoa and opted for something more mainstream but healthy.  So I made lasagna.
Now, I don't eat cheese of any sort, so as you can imagine, this is a dish that's slightly out of my comfort zone.  But I wanted to make something that could be completely prepared in advance so I could spend more time with my guests and less time being completely frantic over timing a number of dishes to be ready at the same time (I have not yet mastered this skill).
A quick Google search brought up a simple dairy & meat-free recipe that I added a little soy-cheese and sautéed zucchini too, just for some extra oomph.
I added a salad with my
to-die-for balsamic vinegar
and olive oil and of course, it went over like a bowl full of lettuce crack.  I'm telling you, this vinegar is from heaven.  It makes a bowl of weeds taste amazing.
As an appetizer, I laid out some humus and pita chips a la whole foods with a little mixed dish of olives (with pits …whoops) and baby pickles.  How cute are those things???
The lasagna went over pretty well, but man, the dessert was an epic fail.  I bought a "vegan" Dutch apple pie from whole foods.  Please do not repeat my mistake.
Fortunately I had left over "real" ice cream for the Sascratchybum clan, whereas D and I focused on devouring
the coconut ice cream
.  If you haven't yet tried it, feel free to make that mistake.  It's so good you'll love/hate me for it.
Ingredients
2 tablespoons olive oil
1 1/2 cups chopped onion
3 tablespoons minced garlic
4 (14.5 ounce) cans stewed tomatoes
1/3 cup tomato paste
1/2 cup chopped fresh basil
1/2 cup chopped parsley
1 teaspoon salt
1 teaspoon ground black pepper
1 zucchini sauteed in to-die-for-balsamic vinegar
1 (16 ounce) package lasagna noodles (I used whole wheat noodles)
2 pounds firm tofu
2 tablespoons minced garlic
1/4 cup chopped fresh basil
1/4 cup chopped parsley
1/2 teaspoon salt
ground black pepper to taste
3 (10 ounce) packages frozen chopped spinach, thawed and drained
Directions
Make the sauce: In a large, heavy saucepan, over medium heat, heat the olive oil. Place the onions in the saucepan and saute them until they are soft, about 5 minutes. Add the garlic; cook 5 minutes more.

Place the tomatoes, tomato paste, basil and parsley in the saucepan. Stir well, turn the heat to low and let the sauce simmer covered for 1 hour. Add the salt and pepper.

While the sauce is cooking bring a large kettle of salted water to a boil. Boil the lasagna noodles for 9 minutes, then drain and rinse well.

Preheat the oven to 400 degrees F (200 degrees C).

Place the tofu blocks in a large bowl. Add the garlic, basil and parsley. Add the salt and pepper, and mash all the ingredients together by squeezing pieces of tofu through your fingers. Mix well.

Assemble the lasagna: Spread 1 cup of the tomato sauce in the bottom of a 9×13 inch casserole pan. Arrange a single layer of lasagna noodles, sprinkle one-third of the tofu mixture over the noodles. Distribute the spinach evenly over the tofu. Chop zucchini into thin slices, saute and add a layer to lasagna.  Next ladle 1 1/2 cups tomato sauce over the tofu, and top it with another layer of the noodles. Then sprinkle another 1/3 of the tofu mixture over the noodles, top the tofu with 1 1/2 cups tomato sauce, and place a final layer of noodles over the tomato sauce. Finally, top the noodles with the final 1/3 of the tofu, and spread the remaining tomato sauce over everything.

Cover the pan with foil and bake the lasagna for 30 minutes. Serve hot and enjoy.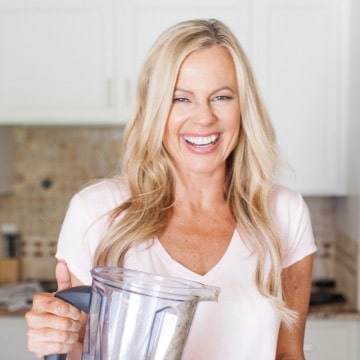 Caren is a certified yoga teacher, fitness instructor and author of The Fit Habit.  Here she shares simple, healthy recipes, home workout ideas and practical ways to foster mind + body wellness.