Head's up, there might be affiliate links ahead!
A quick, simple gazpacho recipe with a protein twist.

I've been meaning to make gazpacho for some time now, but only got around to it last night as I whipped up a number of meals for the week.  This one was my biggest success and the best part is that it's so easy, it's not even funny.
Basically, this soup is a blend of fresh veggies with the addition of some cooked, shelled edamame added in after blending to increase the protein and give the soup a little substance.  You can even add the edamame to the puree if you prefer.  I prefer to keep them whole and add them after blending to give it a chunkier texture.
Amazing Gazpacho Starts with Great Salt
Since this is essentially a raw blend of vegetables, there's no opportunity to fuse flavors with cooking.  With that, you have to rely on a really good seasoning to optimize and highlight the natural flavor of the veggies.  This is where a good sea salt comes in. Personally, I love Maldon Salt.  It's a hand-crafted salt that brings anything you add it to to life.
You guys, I'm not even kidding.  I talk about this stuff all the time on my blog.  It simple makes everything taste amazing.  Go get yourself some!  It's not expensive and it also makes a great gift for the foodie folks in your life.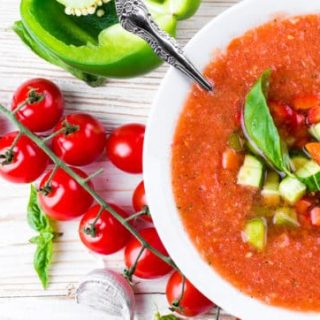 Plant-based Gazpacho Recipe with added Protein
A perfect healthy starter for a summer dinner party that you can serve in a pitcher and store in mason jars!
Ingredients
4 celery stocks
2 red or orange peppers
2 cups of raw baby spinach
1 cup basil leaves
½ cup cilantro
3 tablespoons lemon juice
2 tablespoons of olive oil
2 tablespoons low sodium tamari
1 medium cucumber
Salt and pepper to taste
1 cup shelled and cooked edamame
Instructions
Simply blend soup ingredients and add shelled, cooked edamame at the end. They can be slightly blended or left whole.
Nutrition Information
Yield

4
Serving Size

4 Servings
Amount Per Serving
Calories

130
I use the LoseIT! App to calculate all my recipe nutrition info. Please consider this a rough estimation and not an exact number 🙂
Caren is a certified yoga teacher, fitness instructor and author of The Fit Habit.  Here she shares simple, low carb recipes, quick home workout ideas and practical ways to foster mind + body wellness.