Head's up, there might be affiliate links ahead!
Lately, I've had to step away from the faux meats.  Not because they are bad for me (although they certainly aren't good for me), but because they're not "clean".  My diet reads more like a bottle of Lysol then anything else these days.
But, it's not that bad.
I mean, I can't eat my beloved faux chicken fingers or stuffed tofurkey rolls, but the upside is my muffin-top-no-more in my favorite jeans.  It's a tradeoff I'm willing to make.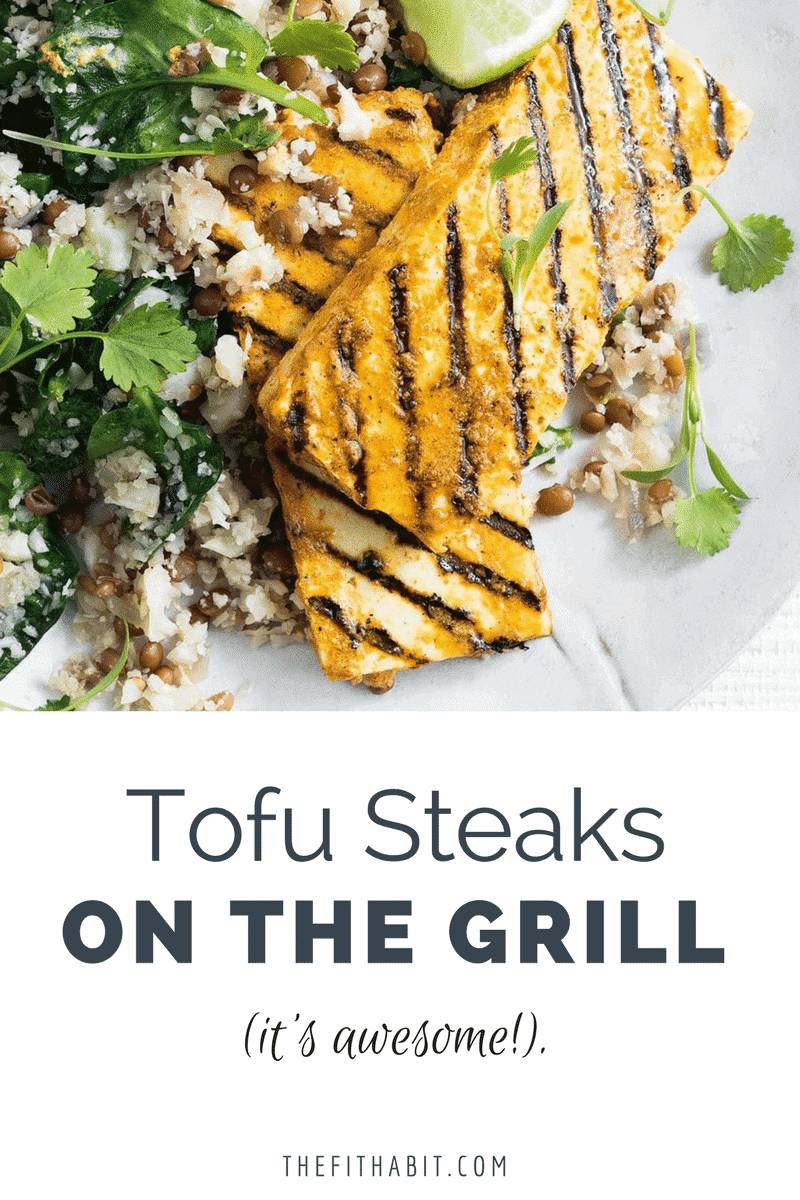 So what does my lean protein look like these days?  As you know, I'm eating eggs, which is something I won't be doing much longer.  It just doesn't sit well with me ethically, but in the meantime, I could buy stock in the few humane certified brands there are out there, like Vital and Eggology, I've been buying that much!
I'm also currently LOVING Vega protein powder, but more on that later.  It's the bomb.com (who knows where that saying comes from???).
But this weekend I experimented with some good o'l fashion blocks of plain organic tofu.
I sliced it into little 3-ounce steaks and marinated it overnight (see recipe below).
Then I tossed them on the grill for 10 minutes.
Now they're in my fridge and they make the perfect grab for my quick meals.  The marinade didn't take very well, but I also sprinkled some Old Bay Seasoning on them, and that seemed to make the difference.  It's also great to toss a little hot sauce on them for extra umph (if you're an umphy kind of person…like me).
I've seen some bloggers make some pretty nifty glazes, but I want to be really conservative with my sugar intake at this point, so I'll leave that off the table for now.
Meanwhile, I highly recommend grilling tofu as an alternative to chicken or steak.  It's low fat, high protein and pretty darn tasty IMHO.
Gluten Free Spicy Tofu Marinade (to cover 1 pound of tofu)
5 tablespoons rice vinegar
4 tablespoons Tamari
2 teaspoons sesame oil
1 sachet of stevia
1 teaspoon chili paste
1 1/2 teaspoons finely chopped garlic (I use the pre-chopped stuff)
1/2 tablespoons of lime juice
Instructions
Dry tofu by pressing the moisture out of it, cut into cubes or steaks and set it aside in a large bowl
Mix ingredients and add to bowl.
Let sit in the fridge for up to 24 hours.  The longer the better.
Caren is a certified yoga teacher, fitness instructor and author of The Fit Habit.  Here she shares simple, low carb recipes, quick home workout ideas and practical ways to foster mind + body wellness.