Head's up, there might be affiliate links ahead!
I'm toast.
I've been working like a mad woman in the gym lately, and it's starting to catch up with me.  I'm 7 weeks out from my competition now, and all bets are off on the occasional cheat if I'm going to get on a stage in a bikini and not humiliate myself.
The good news is that I'm sweating with the oldies at my new gym!
After my posing class with Jupinko, I decided to sign up for a membership at the little fitness center we met at as it was cute and one of the old people that was working out there told me I looked great.
If there are two things that make a girl feel great, it compliments and being the youngest person in the room by about 20 years.
Yes, my new gym could be mistaken for a retirement center, but I love it.
Oh, and this is my view from the treadmill.
Nuff said.
So here are my eats as of late.  They're getting more and more snoozerish by the day….
Meal 1 – My beloved protein pancakes.  Favorite meal of the day….
Meal 2 – soy yogurt, some strawberries and Vega protein powder.
Meal 3 – a honkin salad the size of a small donkey and tempeh fingers.
Meal 4 – On the run baby – just some Vega powder and water this time.
Meal 5 – carrot ginger soup and more of those tempeh fingers
There should have been a meal 6, but at some point, you just gotta say no to more food.  My mouth just refused to open for anything that wasn't wine or chocolate.
And I didn't have access to either of those, so off to bed I went.
They should seriously make a movie out of my meal plans.  Bound to be a hit, right?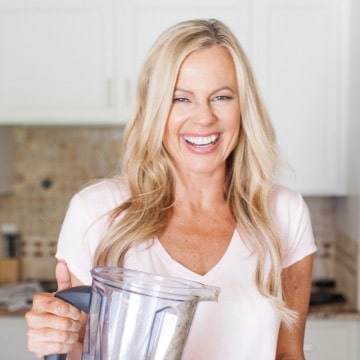 Caren is a certified yoga teacher, fitness instructor and author of The Fit Habit.  Here she shares simple, healthy recipes, home workout ideas and practical ways to foster mind + body wellness.