Head's up, there might be affiliate links ahead!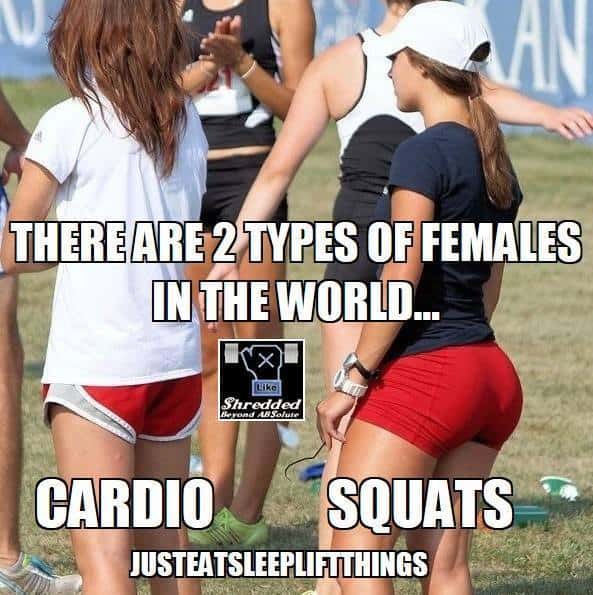 I saw this image while wasting time on Facebook the other day. It was the tipping point to my growing hatred of memes that relay this "do you even squat?" moronic talk.
Let me be clear, in all my infinite personal training wisdom as well as my extensive experience in owning a human body, I know this for sure: all the squats/lunges/deadlifts or ballet inspired plies in the world will not make a flat butt turn into a bum like this one.
It just won't. Sorry.
But this isn't just a rant about full buttocks pictures. It's a reminder that although we can make adjustments to our body composition, there is no physical way to grossly inflate a single area of your body without implants. Spot training is largely a myth and there's no way this woman could train her gluten to that size without having enormous overall lower body development. Likewise, she also can't lose weight just on her butt. Fat dissolves in its own genetic order, just like muscle grows slowly, but only so much (naturally).
What you see in this picture is not the result of endless hours at the squat rack. It's genetics. That's all.
So if you haven't been blessed with a big bulbous behind, don't fret. I'm sure the "trend" will move on as soon as the Kardashians get overshadowed by the next talentless debutant with a skinny butt. For now, let's at least take comfort in the idea that we're finally celebrating fuller body parts!
Now if we could just find some irresistible starlet that would be willing to flash her belly rolls across the internet, we'd all be able to stop sucking in our guts.
Have I crushed your dream for building the ultimate badonkadonk?
Caren is a certified yoga teacher, fitness instructor and author of The Fit Habit.  Here she shares simple, healthy recipes, home workout ideas and practical ways to foster mind + body wellness.