Head's up, there might be affiliate links ahead!
I have spent so much time white-knuckling diets I HATED to reach a weight loss goal and you know what?  When I reach my goal (or should I say "if"), it was always short lived.  When I force myself to do things that I wouldn't do normally (like weigh and measure everything I eat), I always revert back to my "normal" behaviors once my weight loss period is over.
And then guess what happens?
Right, you don't have to guess.
I'll be honest, workouts are not my problem.  They're easy for me because I don't go to a gym and it never takes more than 30 or 40 minutes to do them, but diet is where I still struggle.  Those same 5 to 10lbs come back over and over again and it's frustrating because I know better.  I teach others how to do this stuff and yet, I'm right there on the struggle bus, too.
But I have to say, the nutrition program I started just this week has made a huge difference already because it's not suggesting do things I wouldn't normally do.  It's just encouraging me to do more of my "healthier" behaviors to accelerate results.  For example, you guys know I preach low carb, but with that, I'm still often over-eating calorie dense foods and that's not helping me reach my goals.  With just a few simple tweaks – I'm seeing a difference already.
So much of it is mindset guys.  If you make the journey POSITIVE, you're going to have a positive experience and that's what's different for me this time.  Waking up to a little ab definition while having zero cravings or hunger is freaking magic.  I am so stoked with my results.  (Sorry for the crappy picture, but wanted to keep it real).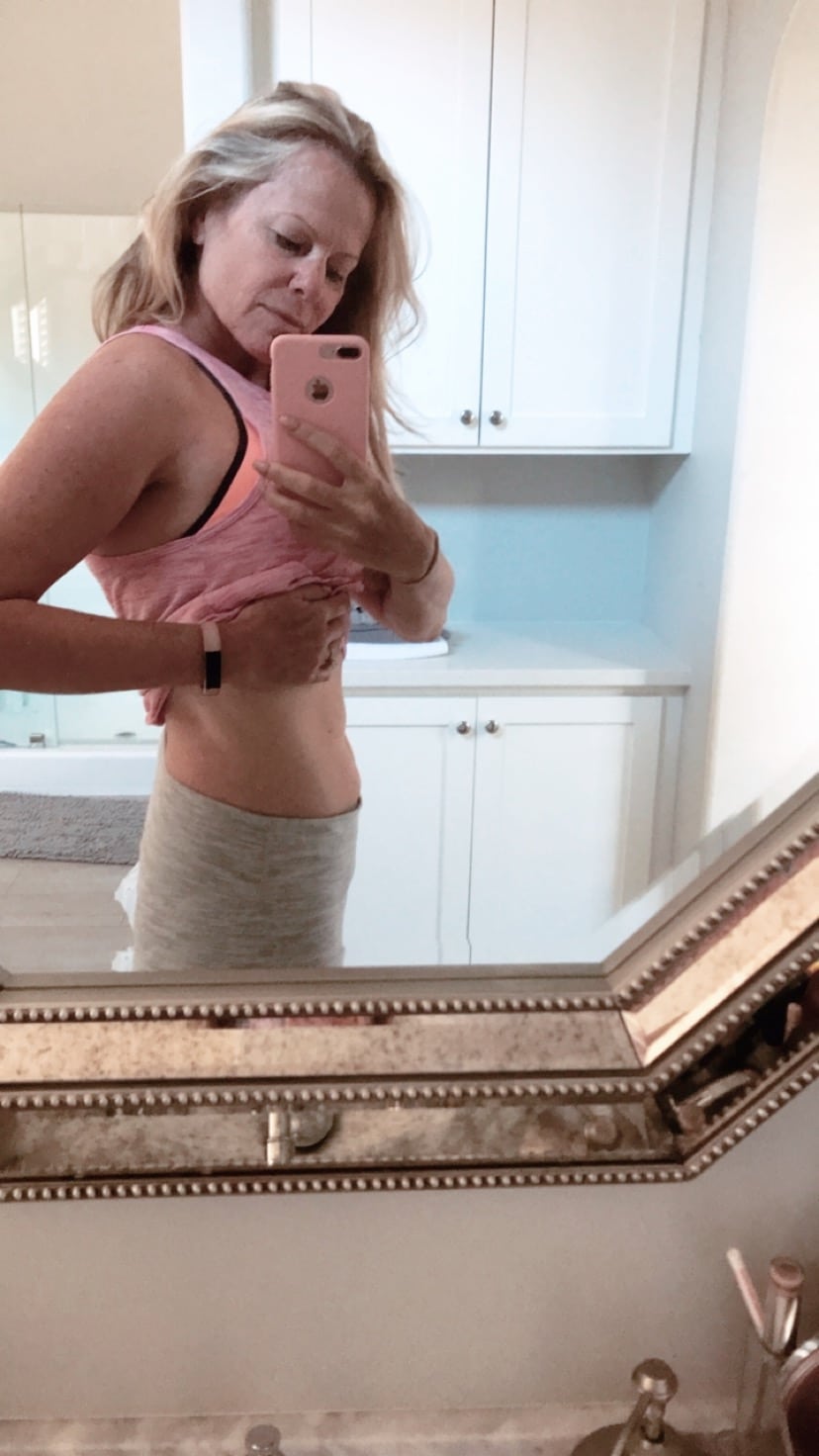 So How do You Make a Weight Loss Journey Positive?
Focus on staying mindful of what you eat.  Journaling is so critical for staying mindful of what you're eating. Try writing down everything you eat.  I'm not suggesting you obsessively measure food or count calories (although that can work, too), but writing down everything you eat makes you more mindful of your choices.
Choose veggies over everything else.  Veggies are seriously your weight loss powerhouse.  The more you eat them, the less hungry you'll be and the less you will crave garbage.
Have a protein at every meal.  Veggies are great for filling you up, but protein is what you need to KEEP you fuller, longer so you're less likely to snack.
Eat healthy fats.  Is anyone still eating low fat these days?  If so, someone needs to bring them up to 21st Century science!  We now know that fats are critical for staying full, looking younger, managing hormone health and just feeling amazing.  But too much fat is not a good thing.  This is where keto and low carb can work against you.  Fats are still very calorically dense, so while you shouldn't avoid them, you shouldn't overdo them, either.
Drink water like it's your full-time job.  It will keep you fuller longer, make your skin look amazing, help with digestion, brain clarity and hunger cravings.  Aim for at least half your body weight in ounces per day, but more is more.
I hope that's helpful and gives you a little hope if you also find yourself on the struggle-bus when it comes to weight loss.  Bottom line – If you can keep it positive and just focus on MORE of what works and LESS of what doesn't, you'll find you get to your weight loss goals much faster and with little to no sense of deprivation. And the best way to know what works for you and what doesn't?  Track everything from food to water intake to poops and sleep.
Happy Monday!
Caren is a certified yoga teacher, fitness instructor and author of The Fit Habit.  Here she shares simple, low carb recipes, quick home workout ideas and practical ways to foster mind + body wellness.