Head's up, there might be affiliate links ahead!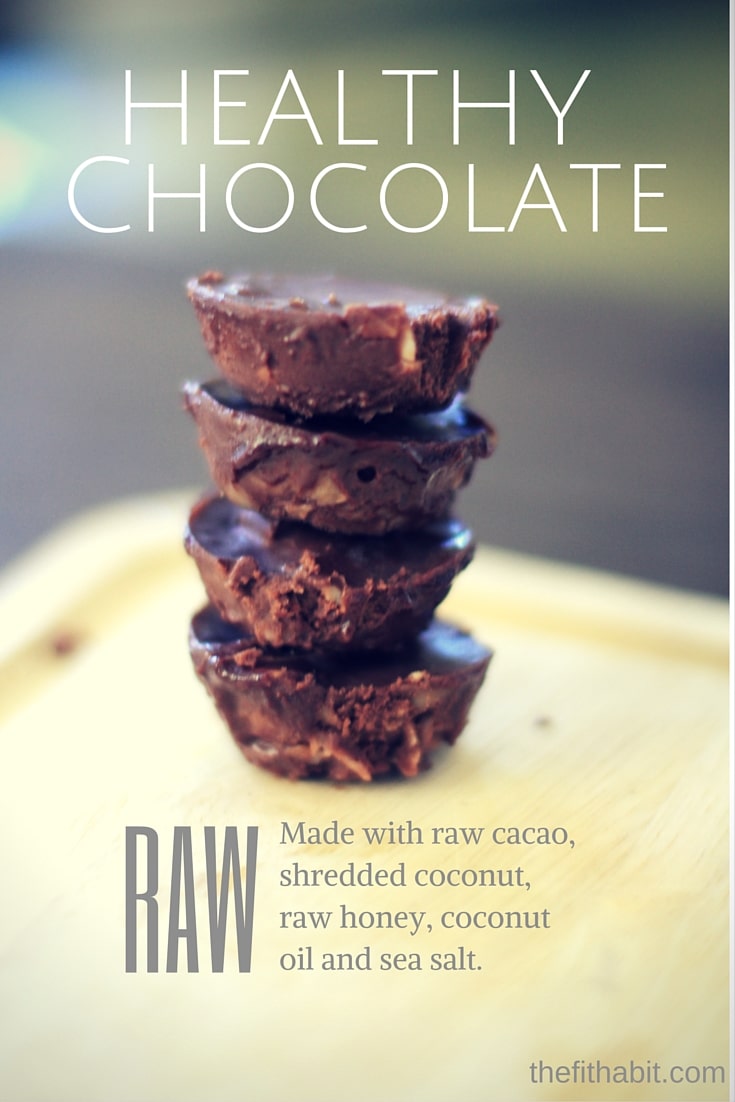 While the Hubby was traveling this week, I had the kitchen to myself to play however I saw fit.
I saw fit to make chocolate.
I then saw fit to eat said chocolate for dinner, with wine.
I love this recipe because it's a guilt-free go-to alternative for your chocolate cravings. Hear me now – there is no health-related benefit to giving up chocolate if you love it because the really good stuff actually has a ton of beneficial qualities. I'm talking antioxidants, anti-inflammatory, anti-fungal and most certainly anti-fat gain. This recipe will not let you down and it won't steer you down a path of sugar madness. Keep it in the freezer and it will last for at least a few weeks. Just defrost one or two when you're feeling a craving come on. Give the chocolate a little time to warm up to room temperature (or not) and enjoy.
It's all upside.
Sugar-free raw vegan chocolate coconut cups recipe
Ingredients
1/4 c unsweetened shredded coconut
1/4 c raw cacao
1/4 coconut oil
xylitol, stevia or raw honey to taste
Pinch of sea salt
Directions
Put a pot on the stove 1/4 of the way filled with water. Put it on a low simmer. Find a metal or glass bowl to put over the pot, so that it acts like a double boiler. Or just use a double boiler if you have one (duh).
Put coconut oil in the bowl and let it melt on the simmered heat from the water. Add the raw cacao and stir up all that chocolate goodness.
Add sweetener to taste (little bits at a time, not all at once).
Add coconut and salt to taste.
Grease a pan. it can be a muffin tin, chocolate mold, whatever you like, just coat it well, then pour in the chocolate (or whatever is left from your taste-a-thon).
Stick pan in the freezer for about 30 mins until chocolate firms up, then go to town.
Send me loving notes of thanks.
Caren is a certified yoga teacher, fitness instructor and author of The Fit Habit.  Here she shares simple, low carb recipes, quick home workout ideas and practical ways to foster mind + body wellness.