Head's up, there might be affiliate links ahead!
I get this question so much, and my answer is always – it depends, but likely not as much as you think.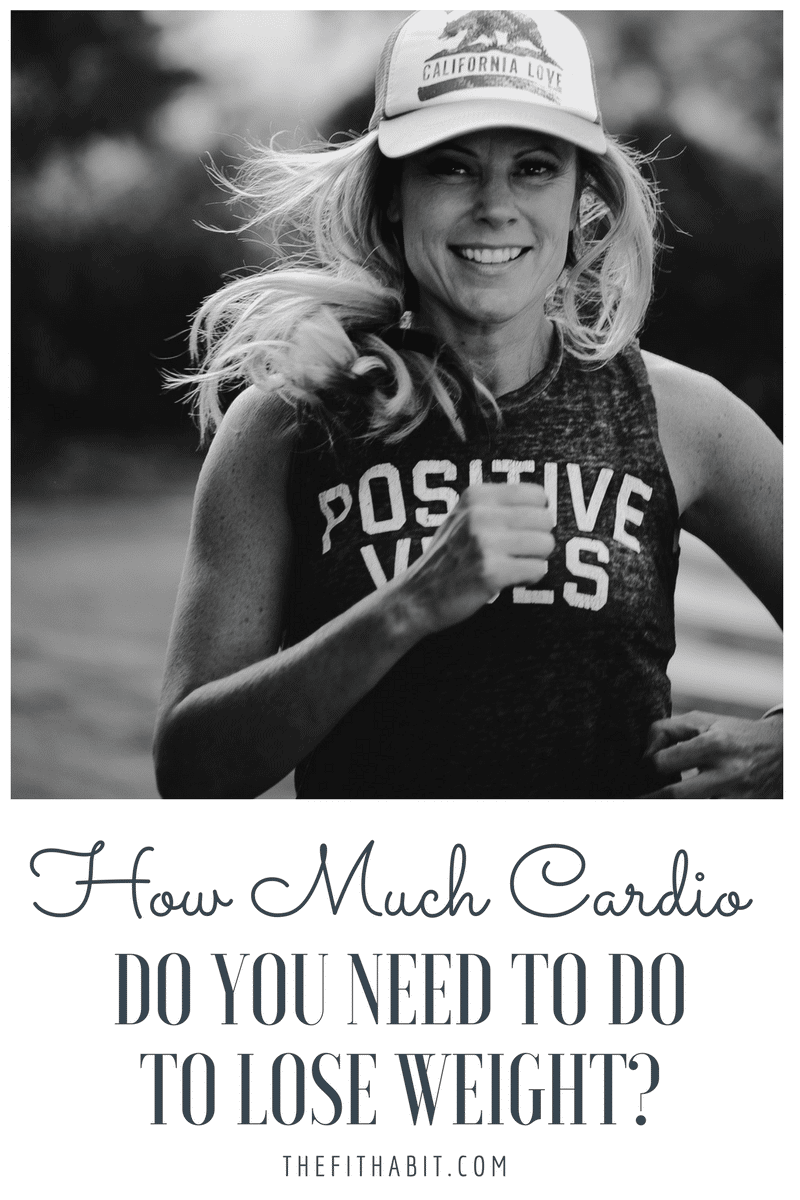 Cardio is something that we tend to think is the most effective way to get really lean, probably because we've been conditioned to think that way by the fitness industry. I often struggle with a "more is better" mindset myself, and I DO KNOW BETTER. It's also hard not to believe that all that jumping around, thumping and running isn't the best way to burn away the bulge. But the reality is, cardio is catabolic. It breaks the body down more than it builds the body up (like lifting weights does).
Now, it can be used as an effective fat loss tool, in small effective doses, or even long, slow intervals. But running for an hour 5x per week will not give you shapely arms or a perky butt. I can tell you this with a great deal of confidence and personal experience.
Here's the issue with cardio –
It's often used as a cover-up for mistakes or a method of punishment for bad food choices. If you ate an entire pizza last night, no amount of cardio is going to rid you of that consumption. It happened, move on, and use those extra carbs to fuel a good weight lifting session instead.
If some is good, it doesn't mean that more is better. As I mentioned, cardio can break your body down, catabolize muscle and weaken joints. Also, if you stop seeing results after 30 mins of cardio, do you push to 45 mins? 1 hour? 3 hours? Where does it end? And you will eventually stop seeing results at your current level of cardio. That is for sure.
Cardio can be exhausting, and hunger-inducing. Your best-laid nutrition efforts can be thwarted if you're constantly on the treadmill. Sometimes just stopping cardio for a few weeks can do a lot to level out your hunger hormones!
The best way to treat cardio is to do as little as you can get away with. If 20 mins, 3 times a week gets you where you want to be, then leave it there. If you're not seeing the results you want, don't look at increasing your exercise volume until you've visited your diet. That's the best place to start.
Caren is a certified yoga teacher, fitness instructor and author of The Fit Habit.  Here she shares simple, healthy recipes, home workout ideas and practical ways to foster mind + body wellness.