Head's up, there might be affiliate links ahead!
Let me caveat this by saying that I'm not a huge "resolution" person. I do set them occasionally, but it's more of a mindful practice of thinking about what I want to focus on throughout the year, rather than making hard and fast goals in January. When it comes to my personal and physical growth, I prefer to focus on behavior change rather than setting goals.
Why?
A goal is just a desired end result. It's actually the behavior change we need to implement to achieve that goal that makes the biggest impact on our lives and dictates how successful we are in reaching them.
[bctt tweet="A goal is just a desired end result. It's actually the behavior change we need to implement to achieve that goal that makes the biggest impact on our lives and dictates how successful we are in reaching them." username="fundinghappy"]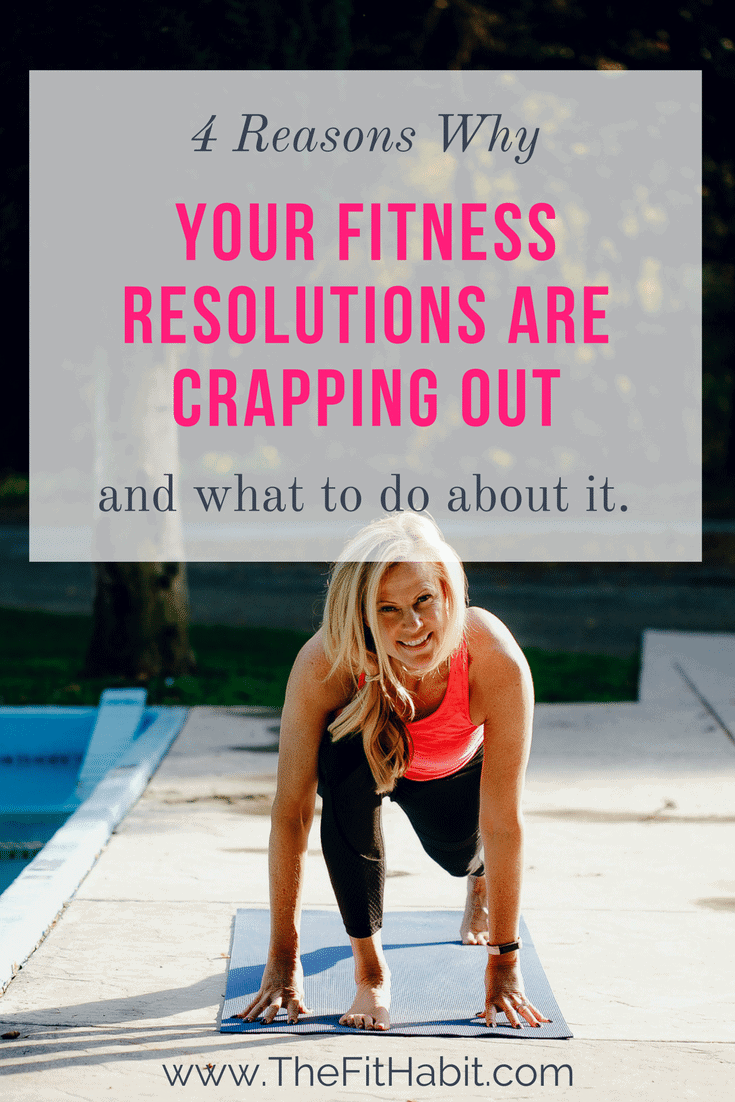 If you're not doing well on the fitness goals you set for yourself this year, here are some ideas about what might be holding you back:
What's the intrinsic motivation behind the goal(s) you're striving for?  Do your actions line up with the overall end result you're looking for? (ie) Are you just working out because you want to be stronger? Healthier? Or more attractive to men?
Tip: If your motivation is based on aesthetics only, you might have a hard time sustaining interest. Aesthetics alone is typically based on a greater need (to feel loved or accepted) and your feelings of success are not controllable through fat loss alone, which will lead to frustration and failure. Dig deeper to find a more meaningful reason that can be directly related to your fitness/health goals. For example, my primary reason for making healthy choices is that it makes me feel better (physically and emotionally) when I eat well and move. When I don't feel like working out, I think about how much better I'll feel if I just do 15 minutes (and I always end up going longer and feeling much better).
Is your resolution something that at least some of the people around you have already accomplished, or are you trailblazing a new direction away from your social norm? (i.e.) Are you committed to losing weight even though your family/friends are still binging Twinkies? 
Tip: If you don't have social support and some strong social examples of others who have accomplished what you want, you're might find this goal very very difficult execute.  Fortunately, I married a guy who values fitness as much as I do, but beyond that, I follow fit women I admire and who's message resonate with me via social media. Some of my personal fav's are Jillfit, Tosca Reno and Lori Harder. They provide constant doses of inspiration and confirmation that I can achieve my goals.
Are you 100% confident you can accomplish your goals? Did you set the bar too high?
Tip: Studies confirm that when we're confident that we can achieve a goal at the onset, we're more likely to follow through and succeed. If your confidence is wavering, consider breaking your goal into smaller ones that you can feel better about (BUT STILL CHALLENGE YOURSELF!)
Can you easily see yourself maintaining the habits and behaviors related to your resolution one year from now?
Tip: Unless you're doing something extremely short term for an out of the ordinary event (like prepping for a bodybuilding competition), then taking on new behaviors that you KNOW you have no interest in continuing a year from now is a waste of time. Short-term behaviors bring short-term results (and this is hard learned from experience). That's not to say that new behaviors can't be learned over the course of time (I wasn't always someone who worked out 6 days a week), but if it's not reasonable for your lifestyle or interests, it won't stick. Take on small behaviors that you feel confident you can adopt for the long term and you'll be shocked how little effort it takes overall to reach your goals.
Bonus Tip: One of the best ways to maintain a consistent pattern of working out is to have access to fun workouts you will enjoy that you can do from home.  My favorites are Beachbody on Demand and Cody App.  Both have amazing workout programs, but Beachbody is less expensive and provides meal plans, so a better value.
The biggest takeaway I want to stress here is to focus on your behaviors and less on the outcome. Try finding ways to eat to satiety, move in a way that you enjoy, do your best to avoid health-sabotagers and choose incremental changes that you know you can't fail at. This is enough to get you pushing forward in the right direction so that you WILL succeed with those resolutions this year.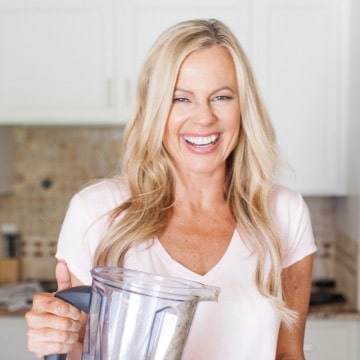 Caren is a certified yoga teacher, fitness instructor and author of The Fit Habit.  Here she shares simple, healthy recipes, home workout ideas and practical ways to foster mind + body wellness.