Head's up, there might be affiliate links ahead!

How did I not know that Kate Spade and Beyond Yoga had a thing going on?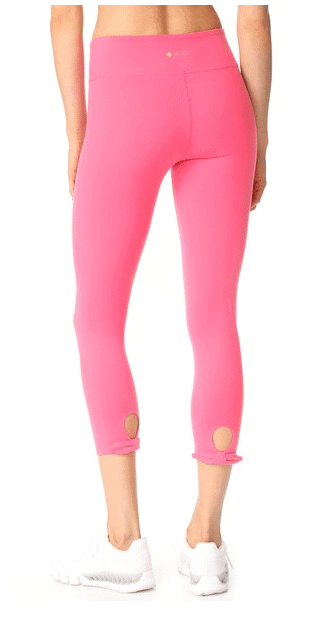 How cute are these leggings (that are on sale for $40)???
I'm always on the lookout for cute leggings that are both breathable and warm enough for cooler temperatures.  So far, Lululemon tops that list for me.  You can go right from hot yoga to a chilly November brunch without having to change and I love that about the brand.  Zella, on the other hand, tends to use a lighter fabric that really lets you feel a breeze.  My legs haven't felt that weather-exposed since my highschool kilt wearing days back in Canada where it hit -40 and I couldn't feel the skin on my lower extremities anymore.  Breezy fabrics are great for summer coverage and sweaty workouts, but not for everyday winter streetwear (and if you don't think leggings are streetwear, we can't be friends).
Anyway, I have not yet had the pleasure of wearing these cuties myself, but you can be sure that FedEx has a pair en route as we speak.
Speaking of cold weather athleisure wear, I've been scoping out some new styles for fall/winter.  It's still 80 degrees here in NoCal, but that should end soon enough. I've got my puffy jacket and Uggs ready to go, but a few more pieces might be called for.
Is 47 too old for crop tops?
Probably, but I'm thinking I can get away with that adidas 3/4 top (above) and a pair of high waisted leggings for sure.
I'll report on the kate spades when I get them!  Meanwhile, do you have a favorite brand of leggings that are ideal for winter workouts?
[bctt tweet="When @KateSpadeny + @beyondyoga get together, ridiculously cute yoga pants happen. " username="@heycaren"]
Caren is a certified yoga teacher, fitness instructor and author of The Fit Habit.  Here she shares simple, healthy recipes, home workout ideas and practical ways to foster mind + body wellness.