Head's up, there might be affiliate links ahead!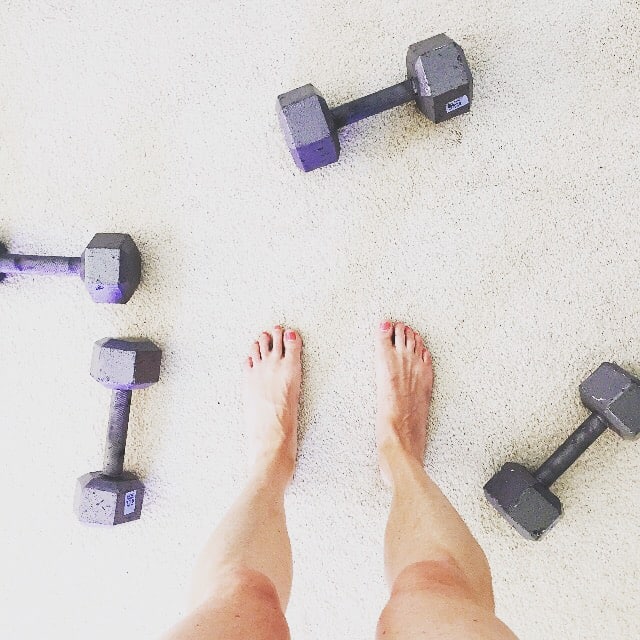 Some time ago I mentioned that I had started on the P90X program in order to really firm up and get into the best shape of my life.
So I'm now mid way through week 5, and I can safely say that it's had a positive (albeit, not dramatic) effect on me.   I definitely feel stronger and I'm starting to notice subtle changes, like a smaller waistline and a bit more definition in my arms, which I'm very happy about!
Most of the workouts are great and the time generally flies by.  I love the plyometrics and weight lifting, although I can do without the Kenpo (not a fan of kickboxing).  They can be intense, but there's always a modification that can make any exercise more doable.  Working out 6 days per week (as the program requires) hasn't been much of a challenge either.  There have been few days that I've missed so far, but I've really made this a priority.  Also, the fact that I can do this all from home with nothing more than a few sets of free weights  and a yoga mat makes it so much easier to get done.
So far I'd definitely recommend the program to anyone who is looking to kick up their fitness.  However I wouldn't recommend it for anyone that doesn't have a base level of fitness to begin with.  It's not a beginner program, for sure.
I'd also say that one of the biggest benefits I've enjoyed from doing P90X is a real surge in personal motivation to push myself to a new level.  I've been excited to workout and see my results, I've become even more focused on my nutrition and I'm feeling mentally ready to take on some new goals.
As a matter of fact, I've taken on what I consider to be the biggest, scariest goal of my life and I'm so excited to share it with you!  I'm just waiting for a few more pieces of the puzzle to drop into place and then all will be revealed.
Until then…
Caren is a certified yoga teacher, fitness instructor and author of The Fit Habit.  Here she shares simple, low carb recipes, quick home workout ideas and practical ways to foster mind + body wellness.