Head's up, there might be affiliate links ahead!
I'm going to refrain talking about food this week as my meal plan at this point is so sad it's not worth talking about.
Okay, yes it is…   it's so sad, you should get a load of what my food looks like the day before the event…
Meal 1:  3 ounces of protein and a ¼ cup of sweet potato
Meal 2: 2 ounces of protein and ½ a measly cup of asparagus
Meal 3: 3 ounces of protein and ¼ cup of sweet potato
Meal 4: 2 ounces of protein and ½ grapefruit (and I HATE grapefruit)
Meal 5: 5 ounces of protein.  That's it.
Meal 6: 2 ounces of protein and a tablespoon of flaxseed oil.
Any kind of seasoning is out with the exception of mustard, balsamic vinegar, and lemon juice.  Also, given that I'll be staying at a hotel without access to a kitchen, I'll be carting these little bits and pieces around in ziplock baggies.
Classy!
Oh, and I only get to drink ½ a gallon of water all day.  Typically this girl knocks back at least a gallon and a half (on a dry day), so I think that might be the kicker that puts me over the edge.
So if you read about a deranged, half-naked woman running about the Las Vegas area attempting to gnaw the limbs of random Midwestern tourists, well…. you'll know who it was.
I'll be a Vegas act all on my own I'm sure.
The good news is that I only have 3 workouts left which makes me very very VERY happy.  I plan to take a few days off from the gym after I return from Vegas and indulge in some MUCH needed yoga.  My yin needs to catch up with my overactive yang (or the reverse…  whatever it is).
In other words, I'll need to decompress.
A lot.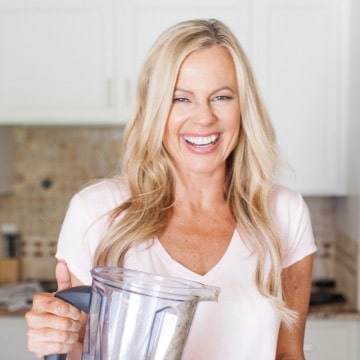 Caren is a certified yoga teacher, fitness instructor and author of The Fit Habit.  Here she shares simple, healthy recipes, home workout ideas and practical ways to foster mind + body wellness.