Head's up, there might be affiliate links ahead!
Let's start with the failure, shall we?
Every week or two, I take less-than-flattering pictures of myself in three standard poses and send them off to my coach. They're called "progress pictures".  ( I was actually going to post some for you, but I chickened out as I don't really relish the idea of my near naked butt floating about the internet.)
But I digress….
After taking my pictures this week, I made the mistake of comparing them to pictures I took last summer when I first started training for competition. I'd like to say that they looked VASTLY different from each other, but that just isn't true. They were EXACTLY THE SAME!!! It appears that I've made zero progress on the muscularity front. Hence the term "progress" picture seems like a cruel joke.
Now I'm not typically a force to be reckoned with when it comes to physical activity, but for 7 months I have been diligently working out 6 days a week and I can't say I look any different than I did when I started. My husband insists that he can see a difference, but the mere fact that we have to argue over how insignificant the changes are, says something.
This to me feels like an epic failure. So much so, that I question whether or not I'm in the right sport.
Ever since I set my sights on Fitness Universe in June, I've been second-guessing the decision. Is it too soon to do another show? Should I not take some time to build adequate muscle mass? Will that EVER happen for me?
The problem is that I can't tell if this is just neurosis or if it's levelheaded thinking, so I've left the issue with my coach to decided. We'll see what her thoughts are…
Onto rejections…
I haven't actually had one of these (yet), but I'm working on it. Rejections are not a big issue in my life because I avoid them like the plague. Can you relate?
It's actually something I've spent a great deal of time thinking about lately as I know I could be much further down the line of life fulfillment if I didn't have this 400lb social fear to drag around with me like a ball and chain.
But that's about to change.
I can't recall how I landed on this article, but the title; 5 Ways To Grow Up, Stop Being a Fucking Crybaby, and Get Rejected, kinda caught my eye. I'll warn you, the author uses a ton of potty language (but I'm sure you can gather that much from the title).
Anyhoo, the point of the article is that we need to train ourselves to become used to rejection so that it doesn't set us back, since it is in fact, a useless social fear.
So I'm now on a mission to get rejected. I have no plans to pick up boys or jump in front of moving vehicles as the article suggests, but I do have a few ideas for some big-hairy rejections.  However, I don't feel comfortable sharing these with you quite yet, as I'm afraid I might actually be rejected, and then I'd have to relive the rejection by telling you about it and I'm not sure I'm up for twice the humiliation factor.
I'll have to work on that, too.
Week in review
Weight trained – 5 x
Cardio – 3x 20 min HIIT, 1 30 min steady state while watching Shark Tank (omg, they are so mean!!)
Finally have a designer working on my logo! Hope to see something soon.
Finally got a copacker to work on my formulations! Ditto the reaction from above.
Went to see John Lovitz do stand up on date night – he was pretty funny!
Lunch with a good friend at MAKE.
Made a bunch of recipes, took a bunch of pictures…
Had 1 spaztastic melt down over my lack of progress in 7 months
Painted a naked boy in art class (and giggled mercilessly throughout)
Survived 3 days with NO HOT WATER.  Although having to shower at the gym everyday certainly does inspire one to actually workout more.
Finished watching season 3 of Downton Abbey. WHY WHY WHY???? Is all I have to say about that….
Weekend to do's
1 cardio + 1 functional workout
Train shoulders + yoga (if I can peel myself off the floor after my ass-whooping functional)
Paint!!! I bought new paints and a canvas so I'm gonna play!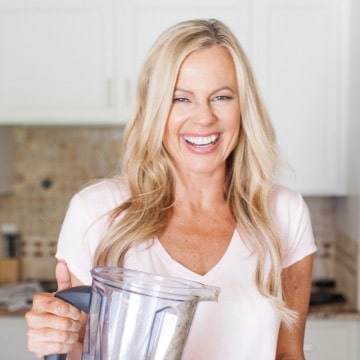 Caren is a certified yoga teacher, fitness instructor and author of The Fit Habit.  Here she shares simple, healthy recipes, home workout ideas and practical ways to foster mind + body wellness.