Head's up, there might be affiliate links ahead!
Whole 30: Day 4
Right now as I write this, I'm kinda buzzing. In a good way.
It's day 4 for me and wow, I can finally say that this is having a life-changing effect on me. Yesterday I received my morning email from the Whole 30 challenge warning me that it was going to be a brutal day, from exhaustion to challenges with cravings. I wouldn't say I was laying in a pool of my own sweat or anything, but it was more of an emotional suffering. Lots of negative emotions, self-doubt and all the other things that sugar can induce. I also felt a little weak in terms of my self-control, so opted not to go to book club where I knew there would be lots of temptation.
But today I woke up feeling fan-freakin-tastic. My stomach is literally doing backflips of joy right now; zero puffy, farty, gassy grossness and definitely less bloating. I have great energy, nothing hurts and I just generally want to hug everything that moves. Who is this person????
I just picked up the book that
the challenge is based on today, so I'm excited to dig into it.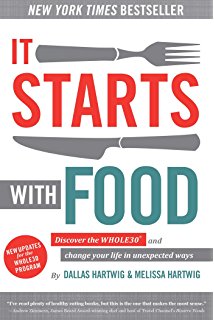 So life changing it should come with a freaking warning label.
Basically, my thought so far is that if this is what "paleo" has to offer, sign up me. I know I've trashed this diet in the past for being so meat-centric, but it totally doesn't have to be that way. It's more about finding satiety and balance with whole foods with an emphasis on veggies, healthy fats and lean protein. My protein right now is coming from fish, eggs, protein powder (yes, I'm still using this) and the remainder is coming from nut butters, etc.
Did I mention I'm buzzing??
Week In Review
Spent WAY too much time researching fitness competitions and the different federations that offer them
Had two ass-kicking calls with my nutritional coaching team – they are just about the smartest people I've ever spoken to (with the exception of my freakishly smart husband)
Lifted 3 x, HIIT cardio 3x
Suffered two days of sugar detox
Spent a full half day buzzing with crazy energy
Attended probably the best dinner party I have every had the pleasure of being a guest at ever. The hostess seriously puts Martha to shame.
Meal prepped like a BOSS
Worked very little (see obsession with federation research above)
One more lifting session for the week!
Catch up on all the work I missed this week
Start working on my garden that currently looks like the place sick plants come to die.
Food prep like a BOSS
A paleo-friendly date night with the hubdub – this should be interesting
Making dinner for a friend on Saturday night (thank Gawd she's doing this challenge too!)
Read my new book and hopefully continue to buzz!
Giddy up!
Caren is a certified yoga teacher, fitness instructor and author of The Fit Habit.  Here she shares simple, low carb recipes, quick home workout ideas and practical ways to foster mind + body wellness.