Head's up, there might be affiliate links ahead!
It's day 7 of my Whole 30 Challenge, and things are going really well. I am not craving sweets near as much as I used to (I'd say I'm down to 30% of my prior give-me-chocolate-NOW-or-my-head-will-pop-off emotional scale). The lack of wine has been fine physically, but it makes going out for dinner about 400% less fun than it previously was. That said, now that I have to be freakishly diligent about what's on my plate, going out for dinner hardly seems worth it at all.
But, I only have 3 more weeks to go before my birthday celebration at Gjelina where I'll indulge in wine, sugar, dairy and PIZZA. That's actually not how you're supposed to end the challenge. You're supposed to slowly reintroduce various food groups over the course of a few weeks, but like I said….it's my birthday, so all bets are off, baby!
This past weekend I spent some time food prepping for this week ahead. Since I'm down to three meals a day with no snacking, the process has become remarkably easier! I find that if I have lots of options for breakfast and lunch, I'm golden. Dinner is something I enjoy cooking (preferably with a glass of wine in hand), so I'm good to wing that most nights.
Here's what I prepped this week
And I also made these egg things. Very simple and quite delish with the exception of the odd full peppercorn left over from my pepper grinder explosion while making the mix. That sucked.
These are easy peasy to make and will keep for the week so you have something to reach for in the AM.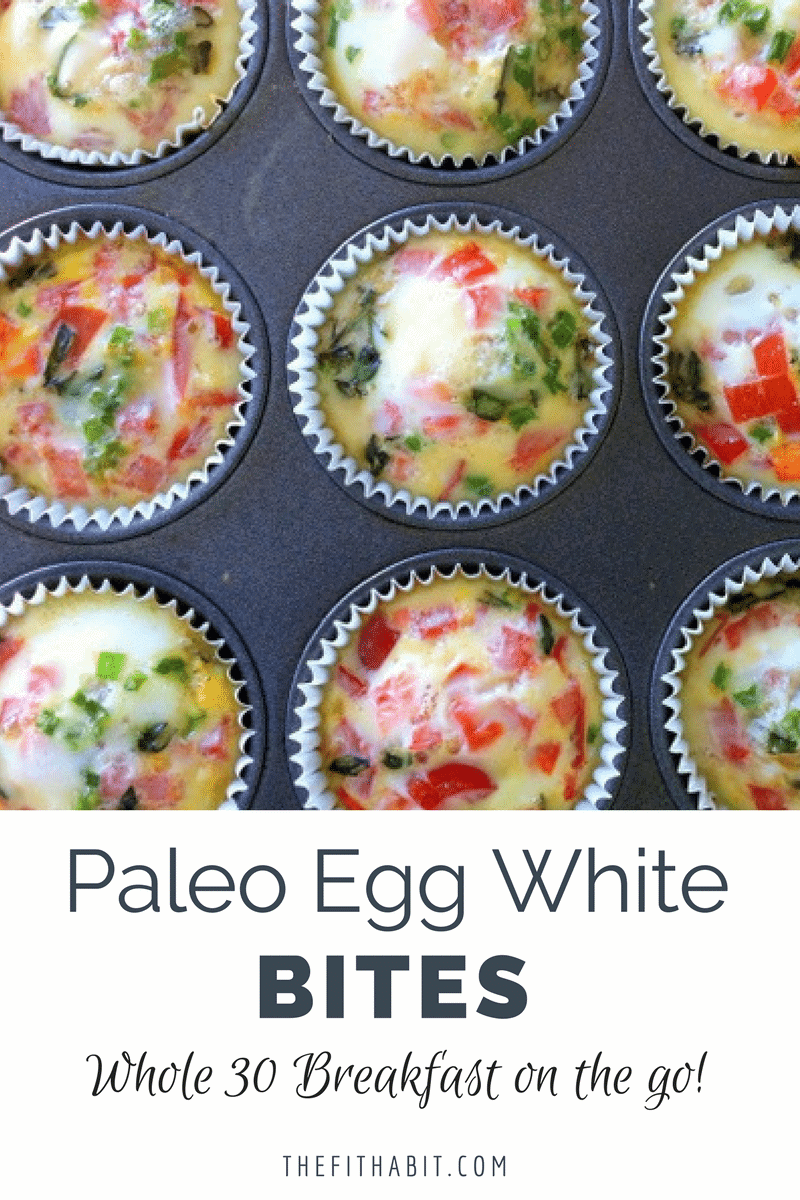 Paleo Breakfast Egg Bites
You could add cheese to this, and I imagine it would be pretty damn good.... but not very "pal-holio"
Ingredients
1

red pepper

3

zucchini

.5 onion

2

cloves

garlic

5

large collard leaves

chopped

1

t

fish sauce

1

t

coconut aminos

optional – use soy sauce if that floats your boat

1

T

coconut oil

4

full eggs

6

egg whites

or use all full eggs if you want

salt & pepper to taste
Instructions
Preheat oven to 425

Finely chop veggies into micro pieces (or use a food processor, but careful not to mush them).

Add to a bowl with eggs, oil and seasoning

Mix well and then portion into a WELL GREASED muffin tin (or spend the next four days scrubbing egg bits off it – your choice)

Bake for about 20 mins, or until golden brown
Caren is a certified yoga teacher, fitness instructor and author of The Fit Habit.  Here she shares simple, low carb recipes, quick home workout ideas and practical ways to foster mind + body wellness.