Head's up, there might be affiliate links ahead!
This recipe is for my vegan-eaters and plant-based enthusiasts.  If you're missing the chewy texture of meat, you might like this soup as an alternative.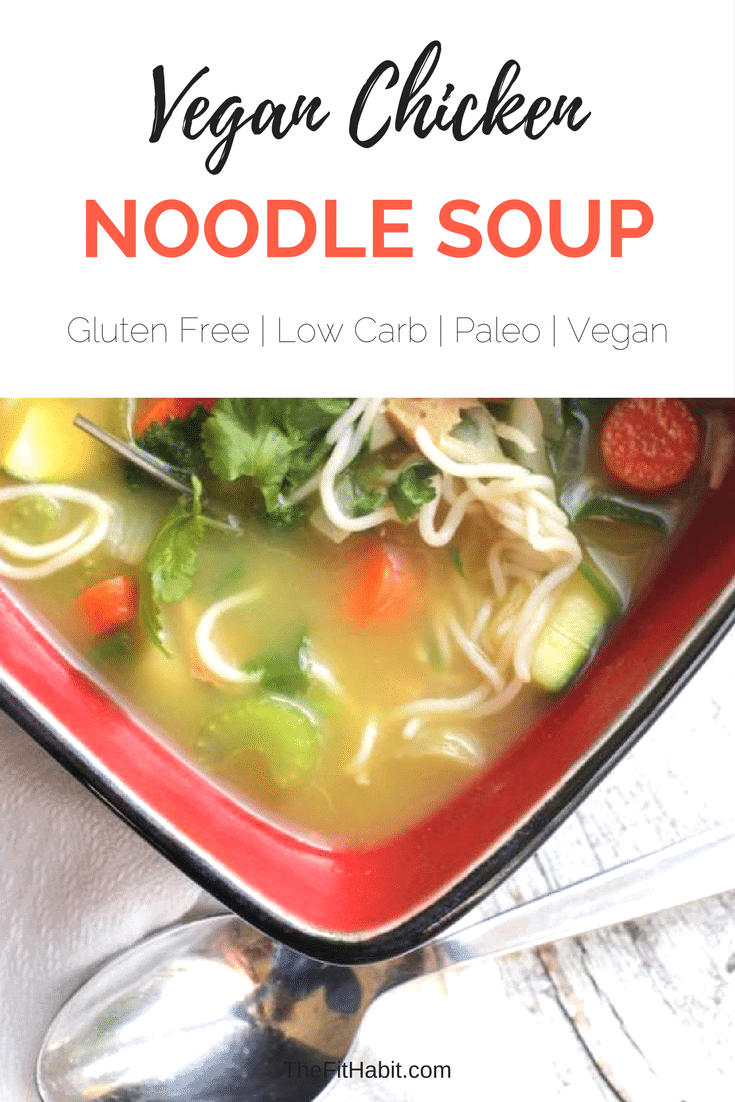 I'm a warm weather girl, and my inner princess is expressing a strong need to head to Cabo for a few days of much-needed sunshine.  Gone are the days of my espresso brown competition tan, for now, my skin is a fine shade mozzarella.  So far my husband's not buying my pleas of desperation, but I'll wear him down.
I have my ways… moooaaa haa haa haa haa.
Meanwhile, just cuz I love ya, I'm passing along a little something that will warm the cockles of your heart (much like a stiff shot of brandy might do).
If you're too lazy to cook, just stick with the brandy and send me some warm thoughts and some positive "get-your-ass-to-cabo" vibes.
BTW, this soup was made with those calorie free noodles, so it's completely guilt-free and tasty as hell.
Yes, I'm open to taking thanks in the form of plane tickets…. preferably S to Cabo San Lucas.
Any takers?
PS…. um, does anyone actually know what a cockle is?
Want More Vegan Soup Ideas?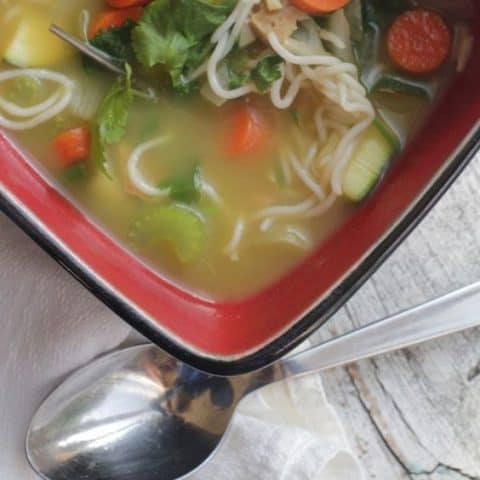 Chickenless chicken Noodle Soup Recipe
A low-calorie vegan alternative to the traditional chicken noodle soup. Perfect for healing colds!
Ingredients
1 container of Imagine No-Chicken Broth, find it at Whole foods
½ package of Sweet Earth Seitan, or your favorite brand
1 zucchini
3 carrots
½ onion
3 garlic cloves
½ cup fresh cilantro
3 tablespoons lemon juice
1 tablespoon tamari, optional
1 package of Miracle No Calorie Noodles
salt and pepper
Instructions
Chop veggies and cook onions, garlic and carrot in a few tablespoons of the veggie broth.
Once translucent, add remaining veggies (except cilantro) and cook on medium heat for 15 mins, or until veggies are done (careful not to overcook!)
Cut seitan into small bite-sized pieces and add to soup. Cook for an additional 5 minutes.
Drain noodles and add to soup.
If noodles are cold, heat the soup back up to the desired temperature, then remove from heat and add fresh chopped cilantro, lemon juice, tamari and salt, and pepper to taste.
Nutrition Information
Yield

4
Serving Size

4 people
Amount Per Serving
Calories

179
I use the LoseIT! App to calculate all my recipe nutrition info. Please consider this a rough estimation and not an exact number 🙂
Caren is a certified yoga teacher, fitness instructor and author of The Fit Habit.  Here she shares simple, low carb recipes, quick home workout ideas and practical ways to foster mind + body wellness.