Head's up, there might be affiliate links ahead!
These low carb, protein English muffins have become the cornerstone of my daily breakfasts lately.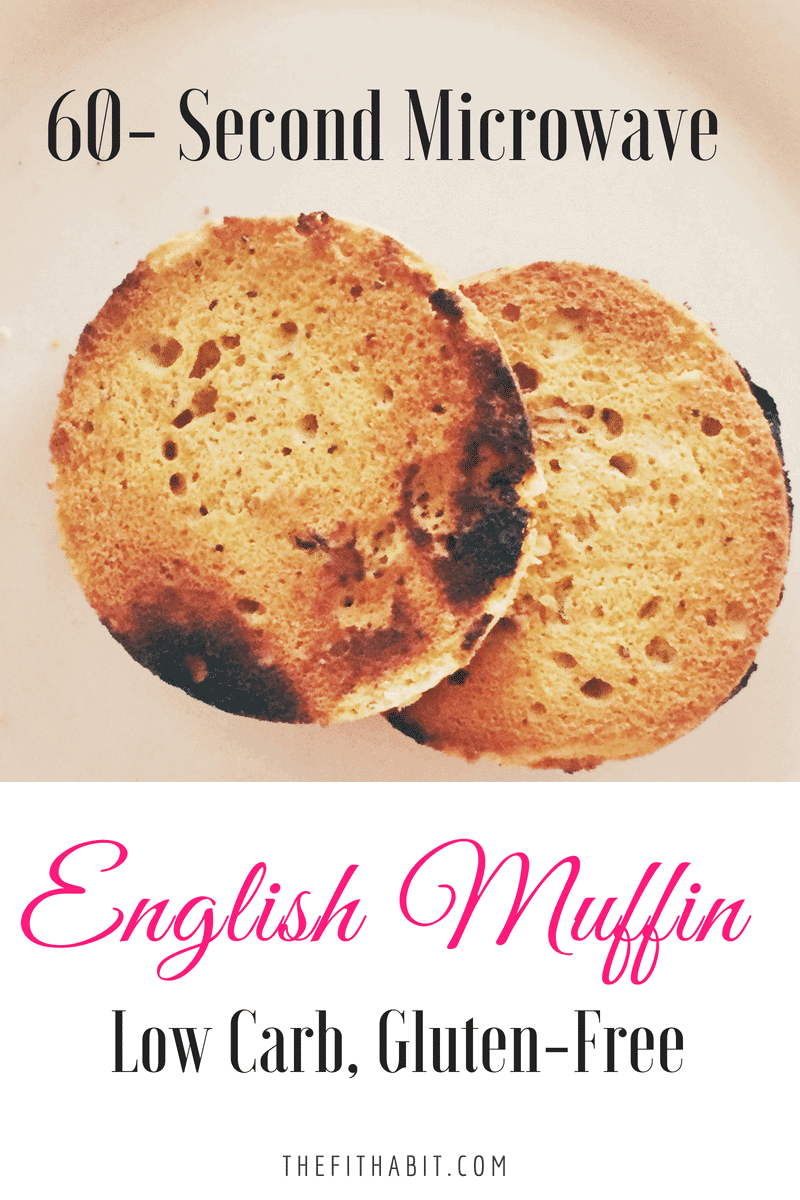 A Life Without Bread?
Since going low carb many years ago, I can't say there are many things I miss about bread and baked goods.  The process of fat-adaption really helps with reducing cravings and hunger, so I never crave things like cookies, muffins or cake.  But breakfasts are different, because I miss toast.
I don't just miss it because it's the best tasting thing on earth, particularly when it's got a big dollop of peanut butter on it, but it's also a part of my history.  For years my mom would wake up and leave for work before I was even awake, but she'd always make me a cup of tea and 2 pieces of toast with peanut butter.  She'd rest the toast over the tea cup to keep it warm which never worked, and it made the toast kinda soggy, but I didn't care.  That was my mom's little way of showing me that she loved and cared for me, and I adored it no matter how much I hated soggy bread.
I miss it more now that she's gone.  Tea and toast will always be something that reminds me of her.
A Low Carb English Muffin
Because I love my morning toast so much, I started researching low carb bread.  Honestly, most of it tastes pretty bad, and don't even get me started on keto bread, but I discovered this recipe based on an idea from a fitness influencer, and I thought it was brilliant.
Given that this recipe is higher in fat and protein, one muffin, paired with some avocado or runny eggs will keep me full for 4 to 5 hours no problem!  But here's the thing – once you've made it in the microwave, you have to toast it.  If you don't, it stays a little too spongy (unless you don't mind that kind of consistency).  I do have a similar recipe for low carb English muffins, but this version is higher in protein (because of the whey) and lower in carbs and calories overall.
60-Second Protein Microwave English Muffin - Paleo, Gluten-free, Low Carb, Keto & Delicious
This is such a simple, yet satisfying way to swap out your typical bread with something that's way more healthy and carb-smart. Try it!
Ingredients
1

Tbsp

unflavored whey protein powder

1

Tbsp

Almond or Cashew flour

coconut would work (too

1

tsp

of baking powder

1/4

cup

egg whites

you can use 1 full egg (but it's a little harder to blend.

A shake of everything bagel seasoning

or something similar,

Pinch

of salt
Instructions
Take a small mug or portion cup and spray it with non-stick spray.

In a separate bowl, combine the ingredients, and mix.

Add ingredients to the sprayed mug (you can use the one mug if you want, but using two makes it a little cleaner).

Microwave on high for 60 seconds

Pop muffin out of mug and slice into 2 or 3 slices;

Pop in the toaster oven or toaster.
Caren is a certified yoga teacher, fitness instructor and author of The Fit Habit.  Here she shares simple, low carb recipes, quick home workout ideas and practical ways to foster mind + body wellness.