Head's up, there might be affiliate links ahead!
I have a huge issue with the word "vegan".
When you label yourself with such an absolute, the first time you screw up and eat a cupcake, you've committed a public failure.
The minute you mention you're a vegan there tends to always be someone at the dinner table who wants to challenge your choices, mainly because they want to defend their own choice to eat meat.  It doesn't take very long for the "carrots have feelings too" argument got really old, fast.
Now, I'm not exactly vegan myself, but I tend to eat as close to that diet as possible.  I generally don't eat any dairy and I never eat land animals.  In fact, the thing that continues to trip me up in the dietary department is my love of sushi.  Oh how I love thee, my precious little bite size pieces of bliss.
However, a few other fabulous people I know have inspired me to give this 21-day kick-start to veganism a go.
I will tell you, I have no fear in forgoing my last two animal-based foods with the exception of one thing: breakfast.  I LOVE breakfast and typically it consists of two yummy eggs (humane certified of course) on a slice of sprouted toast.  It is divine and I've started my day that way for some time now, so to change this habit will be a challenge.  But it's only 3 weeks, right?
So I've already started bringing a little oatmeal into my breakie routine, but to be honest, it just doesn't cut it for me.  I need something crunchier….that I can sink my teeth into.
So this morning, I tried out a variation inspired by Bethenny Frankel.   I have to admit, it was pretty damn good (if you are reading this via email, click through to the blog to see the video below).
This is what I threw together.  Use what you have/like to make this truly yours:
·

 

   ½ cooked brown rice (you can set this up in a rice cooker the night before)
¼ coconut, soy or almond milk
Sprinkle of raisins
Sprinkle of gogi berries
Drizzle of maple syrup
1 sachet of stevia
A sprinkle of nuts (I used raw almonds and cashews)
½ a banana
Just mix everything up in a bowl and enjoy.
My husband added protein powder to his serving for an added boost. I forgot to do the same, but tomorrow, I'm on it.
UPDATE:  Hi, it's me!  I'm writing to you from the future!  I wanted to give you an update on my post 21-day vegan kickstart cleanse.  It went pretty well!  Now, I generally didn't have to give up a lot since I only ate fish and eggs, but even with that dietary change, I lost a few pounds.  I did fail a few times in the fishie department, but I feel pretty confident about my decision to give up my little ethical eggs.  I still have my hankerings for sushi here and there, but for now, I'm okay indulging when I need to.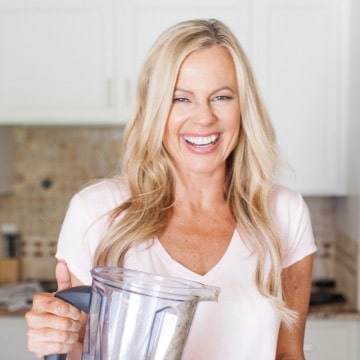 Caren is a certified yoga teacher, fitness instructor and author of The Fit Habit.  Here she shares simple, healthy recipes, home workout ideas and practical ways to foster mind + body wellness.