Head's up, there might be affiliate links ahead!
If you've ever invited a vegan over for a meal and you're panicking because have no idea what to serve them, then look no further.  This one is super simple, easy to make and full of protein and veggies.  The weird thing is that you can't taste the tofu.  It almost tastes like eggs.  Almost 🙂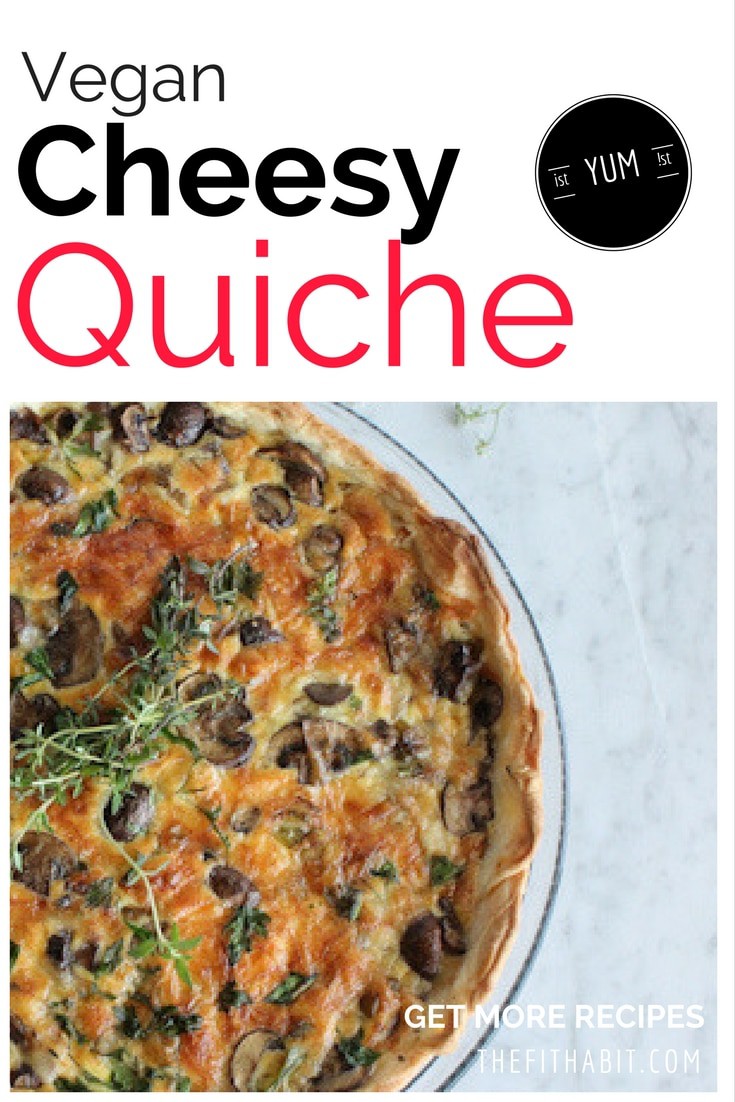 Yer welcome!
1 block extra firm tofu
2 cups spinach
1 container of mushrooms (about 2 cups chopped)
1 med. Onion
2 tablespoons tamari (or soy sauce)
4 tablespoons of mustard (I went fancy, but plain old yellow will do)
2 tablespoons nutritional yeast (and a little more to sprinkle on top)
salt and pepper to taste
1 tsp coconut or olive oil
1 cup fresh basil
3 tsp rosemary (optional)
Preheat oven to 425 degrees and grease a quiche pan really well.
Finely chop mushrooms and onions (or food process) and add to a skillet with the olive or coconut oil. Sautee over medium heat until onions are translucent. About 5 minutes. Add spinach and mix until wilted (about 2 minutes). Remove from heat.
Meanwhile, in a food processor, mix an entire block of tofu until smooth. While tofu is in processor add mustard, tempeh, nutritional yeast, basil and rosemary. Blend well and taste to ensure it's flavored to your liking. Feel free to tweak or add more seasoning.
Once the tofu mixture is to your liking, add it to the veggies in the pan, stir until well combined and then pour entire thing into greased quiche pan.
Sprinkle with a little more nutritional yeast and drizzle some tamari over top of the mixture. Bake for 20 to 30 minutes or until thoroughly cooked through. Remove from oven and let sit for 5 minutes before serving. But don't let your husband near it!
Caren is a certified yoga teacher, fitness instructor and author of The Fit Habit.  Here she shares simple, low carb recipes, quick home workout ideas and practical ways to foster mind + body wellness.