Head's up, there might be affiliate links ahead!
Happy Monday!
I made this loaf for my mastermind group. Actually, I made a whole bunch of goodies to bring with me, but this was the special holiday-themed treat. The point to my collection of goodies was to inspire the group to opt for healthier, whole food based munchies when entertaining for the holidays.
Very often we (okay, I) use things like crackers, fancy chippies or some sort of previously frozen canapé as a cocktail hour nibble, but most of these things are processed food. I'm really trying to stay away from anything with a barcode, and everything I included in my traveling ensemble was basic and simple.
I brought a veggie tray of previously cut veggies (and tossed the ranch dressing it came with).
I also cut up more raw veggies in a separate tray and served a fresh guacamole as a dipping sauce (when I say fresh, I mean Ralph's deli counter made it, not me, but it's delicious and has no funky ingredients.
I made deviled eggs with avocado and some olive tapenade – seriously delicious, and how 1973 of me?!
I bought an array of olives and a container of cherry tomatoes, which are perfect to much on
And I also grabbed a bag of mixed nuts and a nutcracker! I used to love these when I was a kid, and raw nuts still in their shells are as basic and healthy as you can get!
The pumpkin loaf does have a few pantry ingredients, but no sugars, no grains and they have TONS of healthy, natural fats and protein.
It's my new favorite thing.

Paleo Pumpkin Bread Recipe
Ingredients
1 14 ounce can organic pumpkin puree (not the pie filling! Check the label).
½ c coconut flour
6 eggs
¼ c of arrowroot or gluten-free free baking flour if you have (this will lighten it up a bit).  Otherwise just use more coconut flour
1 banana mashed
¼ c coconut oil
¼ c xylitol or use stevia instead (this is optional, I like my bread sweeter)
1 T pumpkin pie seasoning
1 t baking powder
1 t vanilla extract
¼ cup crushed nuts (I used pecans, but feel free to use what you have)
Directions
Preheat oven to 400 degrees
Lightly grease and 8×8 pan
Mash banana in a large bowl, then add the remaining ingredients. I used a hand mixer to get everything really well mixed, but use what you have
Pop into the oven and bake for about 20 to 25 minutes or until the top is golden and the sides start to recede from the pan.
Let cool and serve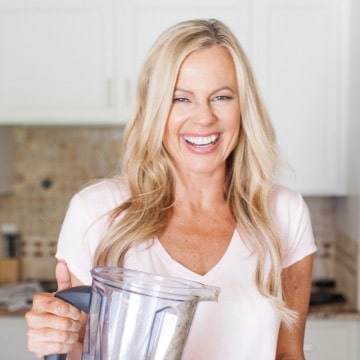 Caren is a certified yoga teacher, fitness instructor and author of The Fit Habit.  Here she shares simple, healthy recipes, home workout ideas and practical ways to foster mind + body wellness.