Head's up, there might be affiliate links ahead!
This Paleo Pumpkin Bread is gluten-free, dairy-free and is made with no sugars or grains (#NSNG).  It's quick, simple and best paired with hot coffee and the company of a good friend.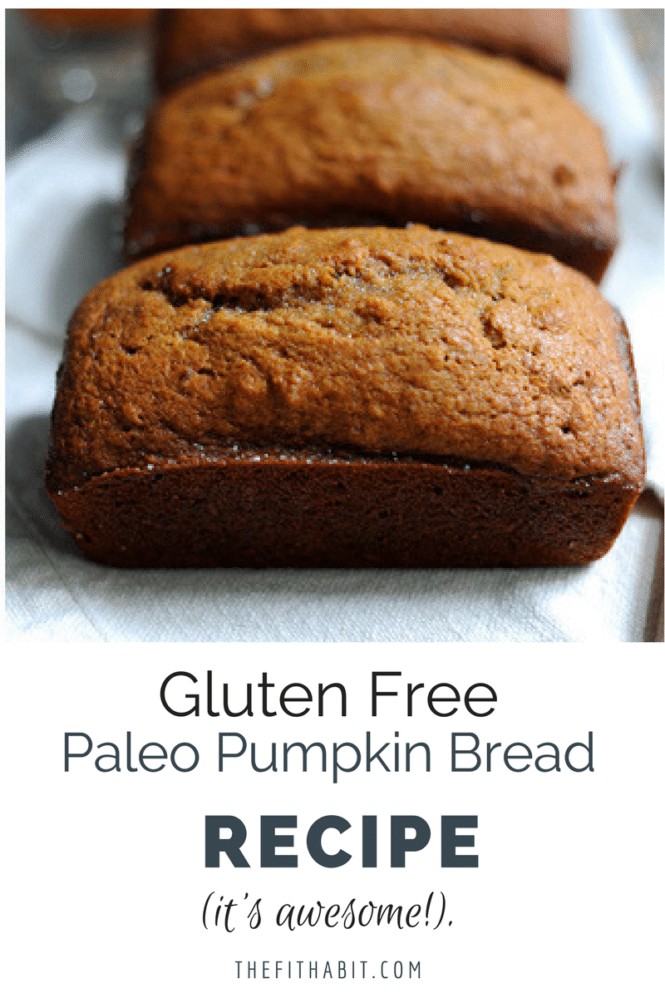 Are we ready for all things pumpkin yet?
I love this loaf because it's super simple to make.  I am by no means a baker, so if the recipe doesn't call for all the ingredients being dumped in a bowl and mixed together quickly, I'm out.  If that sounds like your preferred level of complexity, then we're on the same page, friend.
I made this loaf for my mastermind group. Actually, I made a whole bunch of goodies to bring with me, but this was the special  treat. The pumpkin loaf does have a few pantry ingredients, but no sugars, no grains and they have TONS of healthy, natural fats and protein.
It's my new favorite thing.
What you'll need to make Paleo Pumpkin Bread (and suggested substitutions)
Canned pumpkin puree (not the pie filling! Check the label).
6 eggs (you can swap out 2 eggs for 1/4 a cup of egg whites)
a banana
coconut oil
xylitol or your choice of sugar-free baking sweetener (Swerve is another great choice)
Pumpkin pie seasoning
Baking powder
Vanilla extract
Crushed nuts (walnuts or pecans are optimal), but use what you have or don't use any at all.
Protip: Using a mixer or a hand blender goes a long way to ensuring your ingredients are well mixed.  If you don't have either, just go at your batter with a whisk or a fork and a lot of elbow grease.
Is Xylitol Paleo?
You can go down the Google rabbit hole on this one very easily, but I'll save you the time and frustration.  Xylitol was not around during the time of our paleolithic ancestors, but then, neither was canned pumpkin or baking powder!  If you are hell-bent on following the paleo diet to the letter, then best not to be eating breads or muffins at all.
However, if you are looking to use a sweetener that's natural (made from tree bark), and not insulin spiking, then I think xylitol is your best option.  If it doesn't work for you, just use coconut sugar, but please note that it will alter the nutritional values below.
Want More Clean Pumpkin Treats?  Of Course You do!
Paleo Pumpkin Bread Nutrition Facts
Macros based on 1/8 slice:  216 cals, Fat 13.5g, Carbs 18.8g, Fiber 5.6g, Protein 6.7g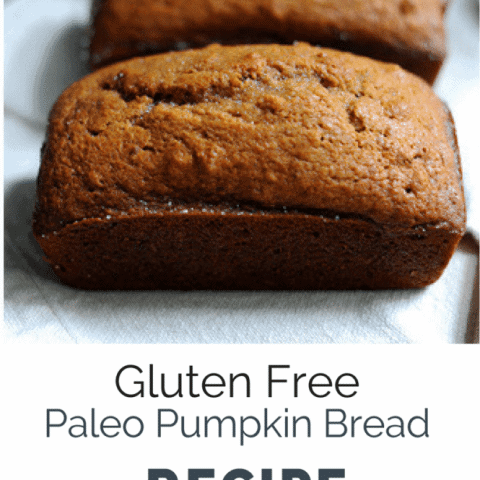 Paleo Pumpkin Bread
A simple, delicious bread with a rich, pumpkin flavor. Made with no sugars and grains, it's perfect for a low carb and gluten-free diet.
Ingredients
14 ounces 1 caorganic pumpkin puree (not the pie filling! Check the label.
½ c coconut flour
6 eggs
¼ c of arrowroot or gluten-free free baking flour if you have, this will lighten it up a bit.  Otherwise, just use more coconut flour
1 banana mashed
¼ c coconut oil
¼ c xylitol or use stevia instead, this is optional, I like my bread sweeter
1 T pumpkin pie seasoning
1 t baking powder
1 t vanilla extract
¼ cup crushed nuts, I used pecans, but feel free to use what you have
Instructions
Preheat oven to 400 degrees
Lightly grease and line a bread tin
Mash banana in a large bowl, then add the remaining ingredients. I used a hand mixer to get everything really well mixed, but use what you have
Pop into the oven and bake for about 20 to 25 minutes or until the top is golden and the sides start to recede from the pan.
Let cool and serve
Nutrition Information
Yield

8
Serving Size

8 slices
Amount Per Serving
Calories

216
I use the LoseIT! App to calculate all my recipe nutrition info. Please consider this a rough estimation and not an exact number 🙂

Caren is a certified yoga teacher, fitness instructor and author of The Fit Habit.  Here she shares simple, low carb recipes, quick home workout ideas and practical ways to foster mind + body wellness.