Head's up, there might be affiliate links ahead!
Hello Monday!!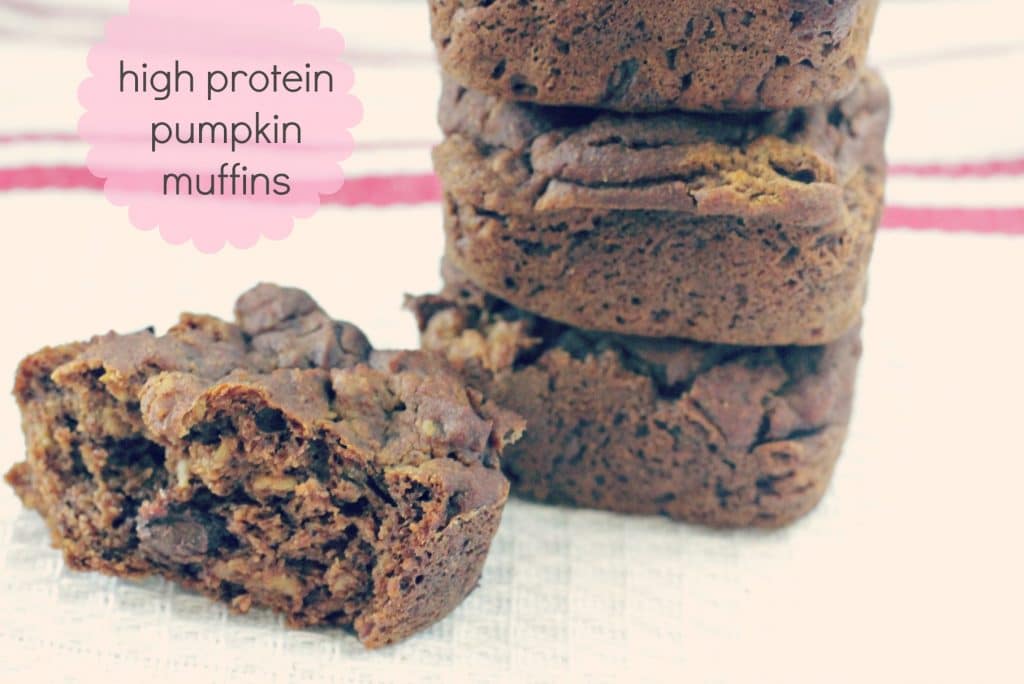 Oh, I've never been more excited to see a Monday in my life.  Why?  Because I'm that much closer to having my life back!  In 9 days I leave for Vegas, and that day couldn't come soon enough.
As you might guess, I'm a little done with this process.
I'm especially over the cardio.  I do enjoy the weightlifting, but I miss my yoga and I've even had insane ideas about running again (really Caren?).
And don't even get me started on the food.
Speaking of which, I have deprived myself of pumpkin this season primarily because if I can have a carb, I typically want it to be oatmeal.  But, when this whole "wear a bikini on stage shenanigan" is behind me, I'll be making these again in a hot minute.
I made them back when carbs were good (and I was a happier person for it).  Going forward I'd probably switch out that wheat flour for coconut flour or garbanzo bean.  I'm pretty much over my addiction to wheat now.
BTW, don't mind my cranky pants…  I'm not doing too badly, but I have my moments (this would be one of them).  I'm sure that if I made competing for a lifestyle (as many physique athletes do), I'd be more accepting of the process, but as a first-timer, it's an uphill battle right now (blind-folded).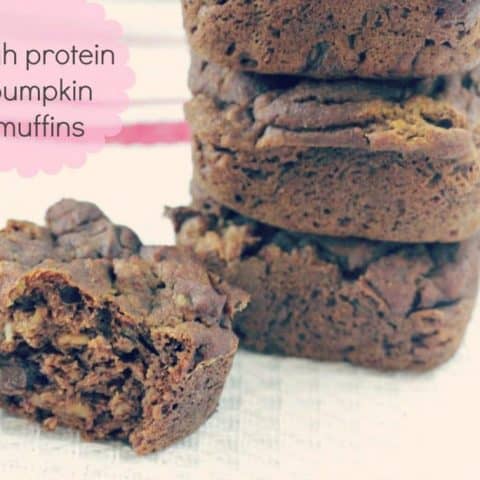 Sugar & Dairy-free Protein Pumpkin muffins
These pumpkin muffins are the perfect healthy go-to when you want a comforting snack without the added sugar. They're also gluten and dairy-free!
Ingredients
1 cup gluten-free baking flour
1/2 cup vanilla protein powder
1/2 cup coconut flour
1 mashed banana
½ cup almond milk
1/2 teaspoon salt
2 teaspoons baking powder
1 tablespoon of pumpkin pie spice
1 tablespoon cinnamon
1/2 teaspoon baking soda
¼ cup vegan chocolate chips
1 small can of pumpkin puree, just the pumpkin, not the pie mix
2 range free eggs
1/2 tablespoon of liquid stevia
Instructions
Preheat your oven to 425 degrees.
Lightly spray your muffin tin so they don't stick.
Combine wet and dry ingredients separately, then mix together.
Portion mix into muffin pan and bake for 15 to 20 minutes or until golden on top and cooked in the middle.
Caren is a certified yoga teacher, fitness instructor and author of The Fit Habit.  Here she shares simple, low carb recipes, quick home workout ideas and practical ways to foster mind + body wellness.