Head's up, there might be affiliate links ahead!
Some of you have asked about my PiYo certification process so I thought I'd share what my experience is in case you've ever considered teaching fitness.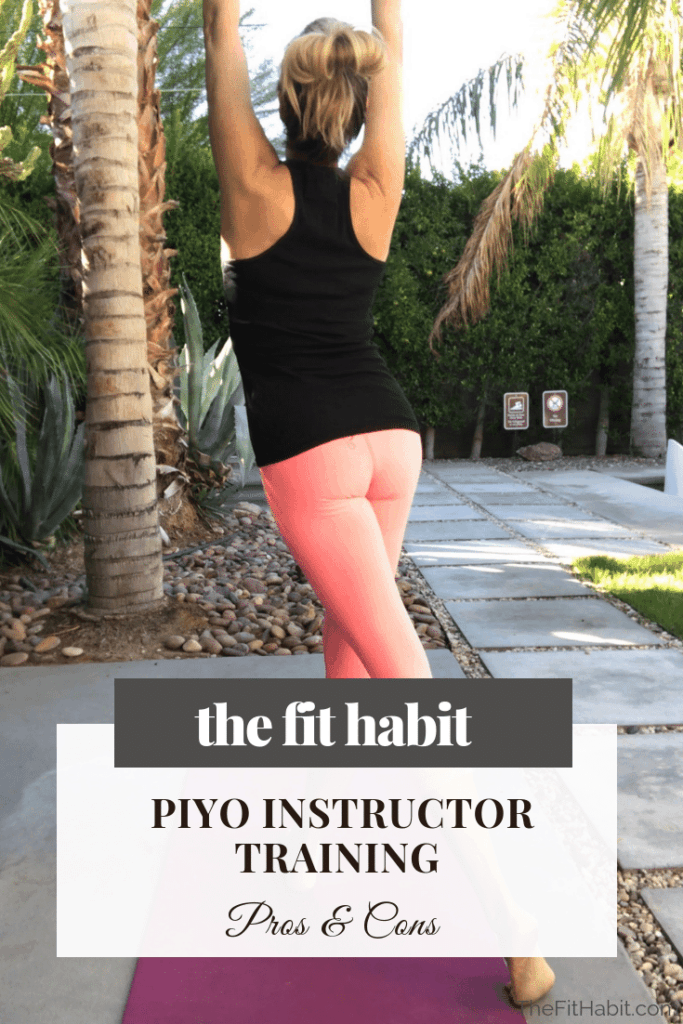 First, what the heck is PiYo?
It's a workout that's a fusion of pilates and yoga. It's ideal for someone who loves the feeling of yoga, but finds the format too boring or "woo-woo". It's also designed to provide functional strength training and lots of core stabilization, so it can provide similar results to pilates, only it moves faster. What I love most about PiYo (and the reason I wanted to become an instructor) is that it's fun! Sure, it can be challenging and you definitely work up a sweat, but it's also really uplifting, low impact and leaves you feeling open and amazing afterwards.
PiYo Class Live vs PiYo Home Workouts
PiYo was originally developed to be taught live at a gym, but when the original creator (Chalene Johnson) sold it to Beachbody, they formatted it to a home workout program. The home workouts differ from the live format mostly in length. Most of the home workouts are 40 minutes or less (which I love). The live classes are longer and formatted slightly different.
PiYo Instructor Training
I was a little skeptical about the training because it's done virtually in one day. To me, that doesn't sound like a thorough training and really, it's not intended to be. The training centered around breaking down the workout, understanding how to cue to music and of course, some form.
The Cons & Weaknesses
There was no discussion of anatomy, safety or how to land your first gig. I'd say about 50% of the gals in the virtual class were already group fitness instructors, so this was a specialization for them. I've taken fitness certifications in the past, so I wasn't worried about the lack of general fitness training, but if I was coming into this program as a newbie, I'd feel less than prepared. I would also question the integrity of any fitness facility that would hire someone who had nothing more than a one-day training. At the very least, CPR and an awareness of how to lead someone through a safe class should be a requirement to teach.
Bottom line – if you're interested in teaching PiYo at a facility, consider this training the first step in your training journey rather than the sole prerequisite to landing a teaching job.
The Pro and Bonuses
I really loved that the training was virtual.
Sure, you miss the connection of meeting other instructors, but sitting in my warm, comfortable bedroom for the 8-hour training was a lot more convenient and comfortable than sitting on a gym floor (<-done that, not fun). I also loved our trainer. She has a sense of humor and has a great teaching style. It made the 8 hour class go by fast.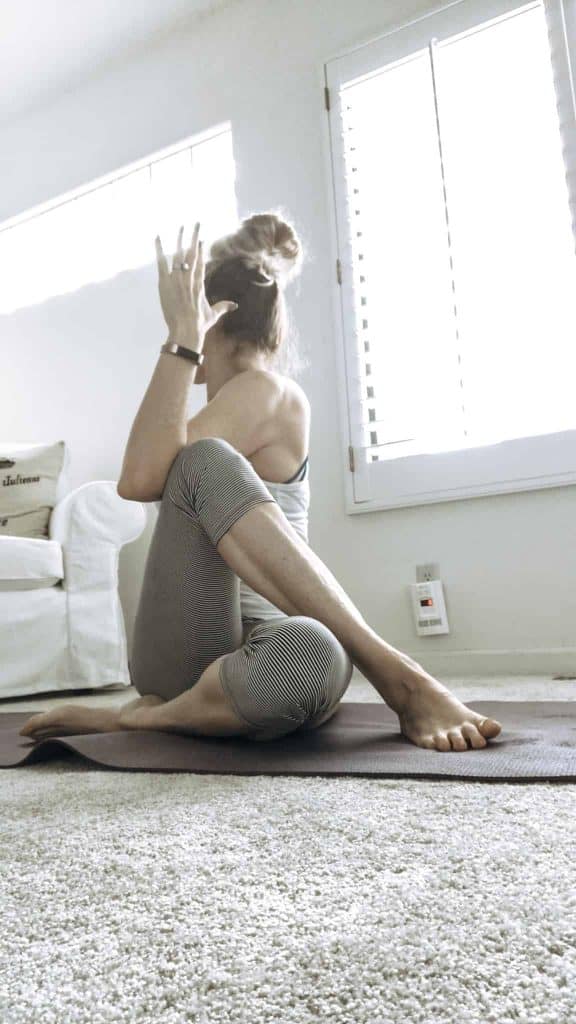 There's tons of training tools.
Even though the live training is one day, there's tons of training tools to help you understand how to teach a class from start to finish. All the workouts have instructional videos, written instructions and of course, the music is included as well, so it's a turnkey package.
You learn a LOT about fitness instruction.
I learned how to time movement to music and how to effectively cue a class so that it keeps moving!  This is not an easy thing to do, and I wouldn't call myself a pro yet, but the foundational training really helped with that.
The Next Step in My PiYo Class Instructor Journey
I've taken lots of fitness and yoga teacher trainings but I have never actually taught a class before. Partially, that's because there's very little money in group fitness, but it's a ton of work for a one-hour class, so it didn't seem like a smart way to earn extra cash. But if I'm being completely honest, I'm just terrified and I have a lot of limiting beliefs about my ability to teach a class. There's a lot to know and think about as you're going through the moves. That, combined with my lack of coordination makes me think I'd be a terrible instructor (<-um, who needs a little mindset work?)
Part of me thinks I should push through and teach some classes just to prove to myself that I can do it, but it's such a big time commitment to train, learn the moves, get my CPR renewed and actually find a job! Will I do it??? Not sure yet, but I'm noodling on it.
Are you interested in becoming a fitness instructor?
If you want to teach PiYo, then you definitely want to take the training, but here's what I would recommend you do in addition to the one day training:
Take a CPR course (most gyms will require this).
Get a national certification for group fitness. I think this will make you a better instructor and give you the confidence to lead a class and know what you're doing. I've heard great things about are ACE Group Fitness Instructor Training
Take a lot of classes with a lot of different instructors. This will help you build the physical endurance you need to teach, but also give you a sense of style and learn what you like and don't like. People go to fitness classes because the time works for their schedule, but they keep coming back because they like their instructors. Find what works for you and make it your own.
If time is a limitation for you, try streaming workouts for a while to get a sense of what you like.  Beachbody has a platform where you can stream all their workouts and most are under 30 minutes. The great thing about this format is that you get to learn from world-class instructors and the program is exceptional.
Am I still coaching online groups?
Oh heck ya!  I love my virtual coaching groups because I get to connect with my participants at a much deeper level.  Unlike teaching a one-hour group class, I have a whole month with my clients, to learn about them, understand their needs and help them find ways to move them closer to their goals.  It's incredibly gratifying and I'll never give that up.