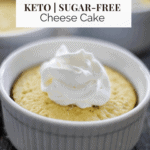 Print Recipe
Sugar-free Cheese Cake: Low Carb + Keto
I loved this dish and it was relatively easy to make. The protein and fat content is high enough that it's pretty satisfying. It's perfect to have after a light dinner.
Preheat oven to 375.

Grease individual bowls with a non-stick spray.

Mix the cheese and the eggs together thoroughly. Add in the stevia, vanilla and lemon juice.

Pour mixture into individual bowls.

Bake for 45 minutes.