Head's up, there might be affiliate links ahead!
So I'm two months into this little adventure already! Time for a little update on my progress…
Physical: My sciatic nerve continues to be the bane of my existence, and hampers my running performance, albeit its getting better. This month, I performed so badly in the Bridge to Bridge 12K run that I was reluctant to surrender my chip at the finish line. In reality I realize that no amount of yogasizing will heal something that I continue to aggravate by not completely laying off the running, but I'm an addict (clearly yoga is failing me here too). I will say, that I'd probably be moving with a permanent limp if I didn't augment my destructive workout habits with this body soothing practice.
Meanwhile my flexibility has increased exponentially. I can do Uttanasana (standing forward bend) in my sleep, and last night my forehead actually touched my thigh in a head to knee forward bend (only on the right side, but hey…that's pretty damn cool).
Mental: absolutely. Okay, excuse me, I made a little "funny".
Emotional: While I'm definitely experiencing some sort of emotional change, they are subtle and difficult to articulate. Suffice to say, I'm generally more conscious and self aware. Where typical fears would generally provoke me to react to situations in ways that only end up aggravating those fears even more, I'm taking a different approach. I'm acutely more aware of my thought process, which in turn slows down my reaction time with a large enough window of thought to change my reaction to something that serves me better. I know this sounds rather random, but to explain in detail would take forever and reveal too much. Suffice to say, I'm not reacting (as often) in ways that I later regret, and my approach to stressful situations is more thought provoked and mature. Is this a result of my yoga/meditative practice? Probably. Interestingly enough, when I come to the top of my mat as I'm about to start my practice, my mind automatically gears down. It's as though my body stance in Mountain pose triggers a demand to my incessantly busy brain to take a chill pill. And it does!!!!!
Overall I'd say that I've experienced benefits in the last two months of practice, but the greatest achievement I'm really quite taken with is my own dedication to the practice. Diligence over the long haul has never been my strongest suit, but now I find I miss my morning practice if the beau stays over, or if I'm at his place. At the risk of sounding new age like, it has truly become the foundation of my day. When I start with this grounding practice, my mind is softer, my body is more open, and I just seem to walk talker. They may sound like subtle differences, but it makes the quality of my day much better.
I continue to struggle a little on the meditation front. When I sit at peace, my mind wonders, and it's just a drag to constantly remind myself not to think! Gah! But I'll continue along, and hope for more skillful moments ahead.
I have yet to come face to face with my guru, but I've planned to start a course in creativity with an "industry luminary" so we'll see what sort of creative inspiration comes from that! I've also found a 200 hour yoga teacher training starting in January that actually works with my hectic travel schedule. Keep in mind that I have no idea if I'll ever be inspired to teach, but I'm interested in learning more about yoga, and the yogic way of life, so I figured this would be a good place to start.
On the self help front, I'm currently reading The 12 Habits of Highly Creative Women. I'm really kicking up my creative juices these days as I think I've left them hampered in self doubt far too long. Yesterday, while interviewing a new web candidate for our team, the interviewee asked us to draw an imaginary circle in the air with our eyes closed, then open them to see which direction we were circling in. I was counter-clockwise, which apparently indicates the mind of a creative. Its time for a little unleashing I suspect, and I guess you, as the reader of my latest creation, are my guinea pig! Please feel free to leave me a comment and tell me how wonderful or ridiculous you find my journey. I'm a big girl, I can take it!! 
Until next month, Namaste
XO
Like what you read? Subscribe to receive updates when new blog entries are added by subscribing at the top left corner of the page.
Send me your feedback and comments with the comment feature at the end of each blog entry.
Peace out
XO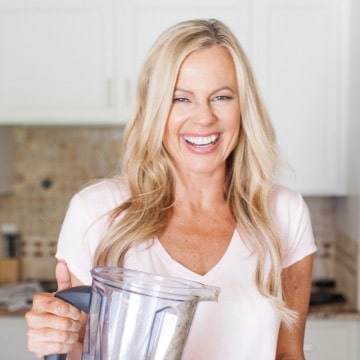 Caren is a certified yoga teacher, fitness instructor and author of The Fit Habit.  Here she shares simple, healthy recipes, home workout ideas and practical ways to foster mind + body wellness.