Head's up, there might be affiliate links ahead!
As I sit here typing away on my little Treo, I'm waiting for a train which I hear is 2 hours late. I could overlook this ordeal and the fact that I got up at 4;30 this morning to get here in time, but the beggars, flies and the overwhelming stench of urine and human feces is turning my stomach. Its still early so the temperature hasn't risen uncontrollably yet. Soon it will be over 40 degrees which will really ripen up the smells!!
We have just spent a harried two days in Varanasi. Considered to be one of the more spiritual places in India, I can't say its had a great impact on me other than a little heat stroke. Its dirtier here than most places I've been to so far. The dogs are scrawnier and the cows are more aggressive in their search for food. But the locals overlook these sort of oddities. Just this morning I investigated a wild yelping noise from across a parking lot where hundreds of people wandered about suprisingly unaware of a dog freaking out. I approached the dog only to notice that the little guy had his head stuck in the tire well of a car. The minute I started to panic since I couldn't get him out, all the locals came to MY rescue…and saved the dog at my insistence. At least the poor little guy got away.
I've spent this trip feeding, petting and rescuing mangie little critters from the perils of life in India. For some reason my heart bleeds for them while I ignore the beggars with their presumptuous little hands thrusted at my face saying 'hungry, no money'. Funny how you learn about your own priorities in situations like this.
I've seen so much in the last week. Women in burka's, the birthplace of Buddhism, a number of dead bodies being burned along the Ganges and the extremes of filth and poverty. I've stared in awe, and the locals stare back. Actually, there's a man standing over me right now gawking at my treo. I must shoot him a glare to send him on his way.
Should the train ever get here, I'll be on my way to Bodhgaya to see the tree where Buddha was enlightened, then on to Calcutta where my trip will end. From there I'll fly to Delhi and hop another train back to Rishikesh to end my trip where it started….nestled in the foothills of the Himalayas along the northern (less dead body ridden) Ganges river.
I honestly don't know how I'll react to the comforts of western life when I get back to civilization.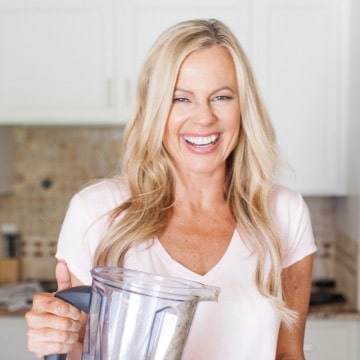 Caren is a certified yoga teacher, fitness instructor and author of The Fit Habit.  Here she shares simple, healthy recipes, home workout ideas and practical ways to foster mind + body wellness.