Head's up, there might be affiliate links ahead!
To dispel the mysticism surrounding yoga, meditation and other spiritual practices through a detailed documentation of my own spiritual journey. The journey starts with a set of objectives, a goal, and some criteria for measurement. The path involves an engaged yoga practice, daily (where possible) meditation, and the enlistment of gurus where necessary, coupled with a self-help read per month. The timeline for the journey is 1 year.
Where it starts: Aug 10th, 2007.

My starting place
Physically: Injured piriformis and sciatic nerve on right leg from running, underdeveloped muscularly, about 20% body fat, currently running and cycling 4x's per week. Weight ~135lbs. Experiencing mild back pain (tolerable to live with, but noticeable and uncomfortable after long spells of sitting down). Also noticeable after running and cycling.
Emotionally: My natural state is generally upbeat and positive. I have an average dose of patience and tend to be quite social. Lately, due to job/immigration stress and the recent loss of my mother, my emotional state has been mildly depressed with feelings of disengagement and disinterest in my daily life. I've also felt a need to recluse lately and avoid social interaction for solitude instead.
Mentally: Feeling unfocused, lack of concentration and discipline (this is not unusual for me). Unable to function at my usual abilities at work, and creativity is at a low point. Short-term memory is suffering – long-term seems to be okay.
My Goals with My Yoga Practice
Physically: Enhance muscular tone and maintain ideal body fat ratio with reduced cardiovascular training (I've decreased my cycling and running from 6 to 4 times per week). Resolve lower back and piriformis and sciatica nerve issues (augment with chiropractic care)
Emotionally: Enhance overall sense of well being above what my natural level would be (usually 7 out of 10 – looking for 8 or 9). Connect with my inner self to gain insight on what my "purpose" in life is, and how I should move forward in my personal life goals and life's work. Gain a sense of control over my wandering mind, and negative self talk.
Mentally: Gain increased focus, discipline, and concentration at work. Elevate creativity in work and personal life, especially in terms of creation of life habits moving forward, improve short-term memory to a near functional level.
Like what you read? Subscribe to receive updates when new blog entries are added by subscribing at the top left corner of the page.
Send me your feedback and comments with the comment feature at the end of each blog entry.
Peace out
XO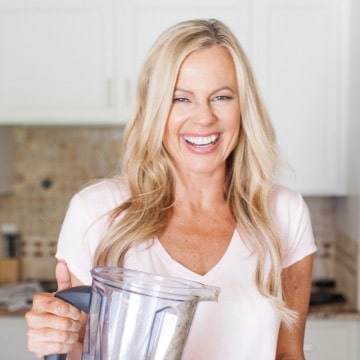 Caren is a certified yoga teacher, fitness instructor and author of The Fit Habit.  Here she shares simple, healthy recipes, home workout ideas and practical ways to foster mind + body wellness.