Head's up, there might be affiliate links ahead!
India smells like warm homemade bread, baked with a dirty sock in it.
I've thought on numerous occasions that it would be great to capture the smells of India, much like we can capture sounds and sights with cameras. That definition is the best I can come up with to illustrate the smells of comfort and dirt that gives India its distinct odor. This excludes the train stations that wreak of pee and the countryside that smells of cow diarrhea.I'm not going to miss the ladder smells, but I kinda like the dirty sock bread odor.
This morning I'm on a local tourist bus en route to Agra to see the Taj Mahal. All I can say is that this monument better be worth the hellacious ride I'm enduring. The seats were made for people that average 5'2 in height, so the headrest is literally digging into my shoulder blades. I had to switch seats earlier as the overhead fan was banging me in the head. I'm so done with traveling in these tuna cans!!! I'm going to ditch the bus when we hit the Taj (it's an all-day tour) and hire a car to take me back Princess style. I've had enough personal space invasion and screaming babies to last me beyond this lifetime!!!
Delhi is a madhouse. I was accosted from the minute I got off the train. I'm tired of the constant inquiries about my name and where I'm from. The minute I engage these conversations, the dialogue immediately turns into a pushy sales pitch of sorts. I've been pressured into buying everything from soap strips to men's underwear, to heroin…yes I swear I heard a man suggest this to me on my way to yoga one night. I'm tired of being stared at, touched, grabbed, and people snapping pictures of me in a creepy Britney Spears sort of way.
I'm afraid to say I just don't get India. Its a country of so many contradictions. I don't understand why I have to cover my shoulders in sweltering heat to be 'proper', yet local women wear sari's that expose their rolly polly midsections and men can run about in nothing but a tea towel around their waste. I don't get why there is no effort to contain garbage, I can't fathom how locals drink straight from the same water they toss the remains of their dead relatives in, and I just can't take the noise and heat.
India is a wild place which has so much to offer the rest of the world. So rich in history and philosophy, and literally teaming with spiritual depth. India brought the world yoga, the oldest spiritual texts in the world, and the brightest technology rock stars, yet it has more starving people and animals, more filth and garbage and definitely more noise than any other developing country I've been to. I'm left battling to decide if the Indian people are incredibly lucky to be born here, or if their lives here are a term of penance for past bad karma.
7 hours later…
I can't feel my bum anymore. I swore I wouldn't take another bus ride in India, but clearly, I overlooked that vow when I agreed to this stupid tour. I got on the bus at 6:30 am, and I was promptly removed 6 hours later and put into a Tuk Tuk to see the sites on my own. I was the only "white person" on the bus, and apparently, we have to pay 750 rupees to see the Taj, whereas the local folks pay only 20 rupees. I'm actually okay with that, but to be singled out, forced off the air-conditioned bus to take an even FURTHER uncomfortable mode of transport, just didn't seem fair. So the first thing I did was head to a travel agency to buy a train ticket home on the "cushy train". The downside to this choice is that the train doesn't leave until 8:30 pm this evening, so I'm stuck with this tuk-tuk driver who is taking me to a ridiculous carpet and marble factories in a hope that I'll buy some local trinkets so he will get a commission from the shops. I'd absolutely refuse to do this, only I have virtually nothing else to do. I'm waiting until 4 pm to see the taj as its best-viewed closer to sunset.
So stranded in Agra with no place to go, and feeling really frustrated that I even thought to come out here to see a giant marble grave. I really hope its worth it!
Namaste!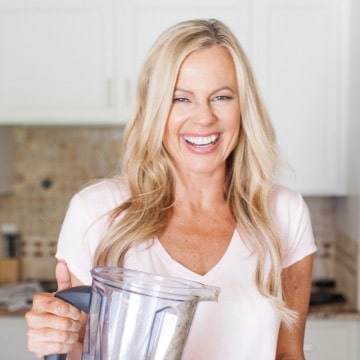 Caren is a certified yoga teacher, fitness instructor and author of The Fit Habit.  Here she shares simple, healthy recipes, home workout ideas and practical ways to foster mind + body wellness.