Head's up, there might be affiliate links ahead!
I went to an Iyengar class on Saturday morning. Iyengar is a form of yoga that focuses on form, perfecting each pose individually rather than a flow of breath and movement like Vinyasa. (or so I understand it to be).
I find this style to be obtrusive and over-explained. The instructor kept talking about how to open the backs of the knees, but her example just didn't resonate with me. Instead, it was a little annoying. That said, I still left the class feeling happier than when I went in, albeit I would say that I lacked that body buzz that I loooove to revel in after a class.
I ran Friday and rode on Saturday and Sunday, so by the time Sunday night rolled around, I was ready for some @ home mellow practice. I pulled out a Rodney Yee CD and went to town. I was amazed at my ability to move through the poses with so much more confidence! This is really where I've noticed the first form of improvement, and really in such a short time.
As for the body….. it's feeling pretty limber and relaxed, so I was able to do almost 10 mins of meditation tonight where I just watched my thoughts. It's amazing how random and snapshot-like they really are. We just have no idea how fast our minds move, and we pay so little attention, that we have no idea what films are rolling up there in our heads. Well, at least I don't!
I'd say on a scale of 1 to 10, 1 being totally brain fried to 10 being beers with Buddha in nirvana, I'd say I'm at about a 5 or 6 right now, and that's pretty damn cool!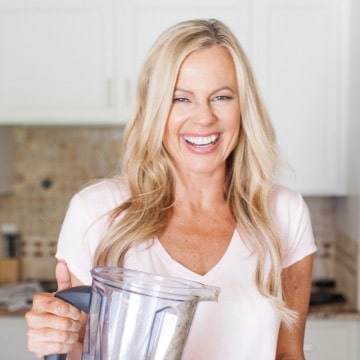 Caren is a certified yoga teacher, fitness instructor and author of The Fit Habit.  Here she shares simple, healthy recipes, home workout ideas and practical ways to foster mind + body wellness.