Head's up, there might be affiliate links ahead!
I lost my mother earlier this year. She was a big part of my life, and although this happened over 4 months ago now, it's only now starting to really sink in that she's gone. Being the proactive type-A that I am, I've decided to strategically embrace and co-exist with my grief in the most efficient and effective way possible. Does this sound as though I'm managing my grief as I might a new work project? Of course! That's me…. template, structured and always the pragmatist. As a mid thirties single gal in high Tec marketing, my approach is pretty mainstream…. like everything else in my world.
But there is also another side to me that I'm not always comfortable giving air time to. It's this quirky, creative, spiritual side (not to be confused with religious – which just isn't me) that gravitates toward a deeper meaning – and I'm not even sure I know what that means! It's my tendency to gravitate toward the self help book section, subscribe to Yoga Journal and dream about running off to an ashram in rural India that I have a huge internal struggle with. My mother, the one who drilled the notion of 9 to 5 as "the only way to make a living" into me, would say careers as life coaches, spiritual gurus and career yogi's are for weirdoes. "Get a job with computers" she would say, or I'd end up married to a homosexual, (which I'm not even sure is possible, since I'm straight). But God love her, she was from a different era.
But even beyond my mother's musings on the "spiritual path" outside of church on Sunday, it's my own leeriness about the "new age" genre that turns me off, yet intrigues me at the same time. It's as though being spiritual automatically labels me as the eccentric woman you see at parties wearing bright colors and long flowing scarf's, and talk about the positioning of the moon, or the image of a century old Indian yogi with the 3 foot long white beard, dressed in a diaper and tied up in a pretzel yoga pose looking severely malnourished. Recognizing that these are the extremes more so than the norms, these images or labels still just doesn't resonate with my white-bread way of life.
But alas, here I am looking for something that will assist me in looking inward, accepting a huge loss, and enhancing my overall sense of well being and satisfaction in life. I read the hype that claims yoga and meditation as the path to the soul. I see the ads for life coaches that claim to "transform", and I continue to peruse the self-help section of the books stores, looking for answers, but lets face it – I'm a born skeptic. So I'm on a mission – to find this inner peace I currently do not have, and to dispel or credit the gurus that claim they can take me there.
I'm blogging this experience as I know I'm not alone. We all have our level of tolerance for these ideas beyond the realm of mainstream western practices, and I fall somewhere in the middle between jaded disbelief and hopeful curiosity. But even more so, I know I'm not the only one who believes there has to be more to this life then houses, cars and reruns of Sex And The City (not that there is anything wrong with that indeed!!)
My game plan is to explore the following, and report back at least weekly (I do have a day job to consider!)
Explore different styles of yoga and practice regularly (at least 2 – 3 times per week)

Meditate as often as I can stand it (goal is once a day, but who's kidding who?)

Enlist the help of a guru – I have no idea what this will be at this point, but they better be free or near free

Apply the common-sense wisdom of at least one self-help or spiritual book per month, and report back on my findings
So find yourself a pair of stretchy pants and join me on this bendy road to nirvana will you? It should be a trip!
Like what you read? Subscribe to receive updates when new blog entries are added by subscribing at the top left corner of the page.
Send me your feedback and comments with the comment feature at the end of each blog entry.
Peace out
XO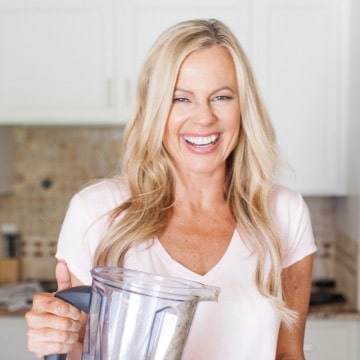 Caren is a certified yoga teacher, fitness instructor and author of The Fit Habit.  Here she shares simple, healthy recipes, home workout ideas and practical ways to foster mind + body wellness.