Head's up, there might be affiliate links ahead!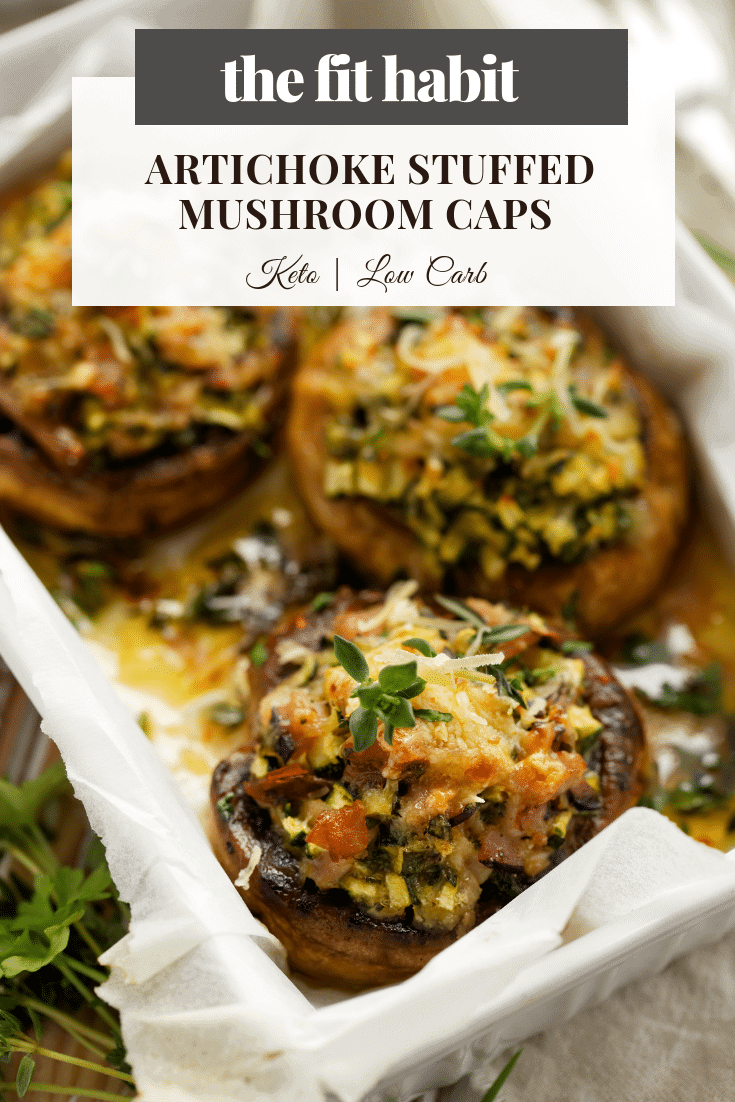 I came across an interesting stuffed mushroom recipe on Pinterest this weekend. They looked heavenly, but I'm not a fan of breadcrumbs or cream cheese, which is essentially all they're typically made with, so I decided to get crafty last night and make them #NSNG friendly.
Since I've started playing with the no sugar, no grains #NSNG food philosophy I've noticed two very obvious (and wonderful) things …
My tummy is flatter (not as bloated)
I'm rarely ever hungry (who am I?)
Removing sugars and grains from my diet has been a game-changer for me[ultimate-recipe-index headers="true"].  It's so liberating to NOT be thinking about food 24/7. I'm not thinking about what to eat next, what's for dinner or wondering if I'll be able to make the two hour trip to the cabin without snacks.  It's like my food alter-ego decided the party was over and took off to go make crazy in someone else's head. It's truly liberating.
Again, the key thing about this protocol is that it favors fat over carbs or protein as the body's primary energy source. I'm eating about 60% (healthy) fats right now, and yet I'm probably eating overall fewer calories than I was before, and I've never once felt hungry or deprived. Even the lowered carbs aren't a problem for me as they have been in the past, because I'm replacing those calories with fats instead of protein. This is not a meat-centric way of eating (which is great for me).
I'm only a few weeks into the fat adaption process, but I can't say enough good things about it. It's sustainable, it's delicious and it's changed my relationship with food, which is amazing.
Now let's go enjoy some "shrooms". ☺
LOW CARB STUFFED MUSHROOM CAPS RECIPE #NSNG
These are great as an appetizer or as a dinner entrée. Leftovers are even tastier than the first-cooked ones. I provided options below. Use what you have!
Ingredients
4 

portabella mushroom

1

cup

artichoke hearts

canned or frozen

1

cup

fresh sage/basil or cilantro (use 2 Tbsp of dried if you don't have fresh

1

cup

collard greens or fresh spinach

anything green that you can hide in the mix will benefit you

¼

cup

green onion

1

T

mashed garlic

1

sausage or tofu sausage

1

T

tahini

or almond butter

2

T

cashews

salt and pepper

1

tsp

cumin

1

tsp

paprika

1

tsp

turmeric

2

T

coconut milk

the stuff in the can. Use any sort of liquid if you don't have, just to keep it from clumping in the food processor
Instructions
Preheat oven to 425 and prep a cookie sheet with wax paper or just lightly grease.

Prep your mushrooms – remove the stems, give them a wash and set to dry.

In a pan, add onion and garlic. Fry in some coconut oil or butter. Add artichokes and sausage and stir until browned. Add fresh and dried herbs and your leafy greens.

Stir fry for just a few minutes more, until greens are wilted. Get out your food processor and process contents (let it cool a bit first if you want).

To the processor, add the tahini, cashews, coconut milk, and salt and pepper to taste. If you think it needs something else, now is the time to add it.

Put your mushrooms out on the tray and start filling each with the filling. Use a moderate amount to ensure you have enough for all the mushrooms, then go back and pile it on if you have the leftover mixture.

Bake for 25 minutes and let them sit out of the oven for a few minutes before you serve.