Head's up, there might be affiliate links ahead!
These are some of the best gluten-free muffins I've ever tasted!
I made these muffins this weekend as I still have so much almond and coconut flour left over from my days with Procakes.  I am sure this stuff will go bad eventually, but for now, it still tastes fine, 3 years later!
I was going to call them paleo, but…
I'm not actually sure that xylitol, the main sweetener in this recipe is paleo.  I'm very sure Grok, the avatar for our former, caveman self, was consuming sugar alcohol alongside his diet of leaves, bugs and the occasional bird.  However, I see a lot of paleo food bloggers using coconut sugar, which even though it's less processed (maybe?) Grok probably wasn't eating that either.
So I'll leave it up to you to decide whether or not these babies are appropriate for your paleo taste buds.  However, if you're not paleo – then dig in man, because these are simply delicious!
Muffins: The Ultimate Grab and Go Snack
As I've worked to reduce my carb intake, particularly when it comes to baked goods.  But that also leaves a hole in my bread-loving heart, so I think this is a really good compromise.  Don't you think?  They're perfect for breakfast or with coffee at 10 am.  If they get a little stale, you can chop them into big chunks and toss them with some berries and yogurt!
BTW, I always like to forward my fellow dog owners that xylitol is highly toxic to dogs, so Fido is a no-go on these muffins, okay?
Awesome – now let's make some muffins, baby!
Want a baked treat that is Paleo (but not-so-low carb)?  Check out my Paleo Coconut Brownies!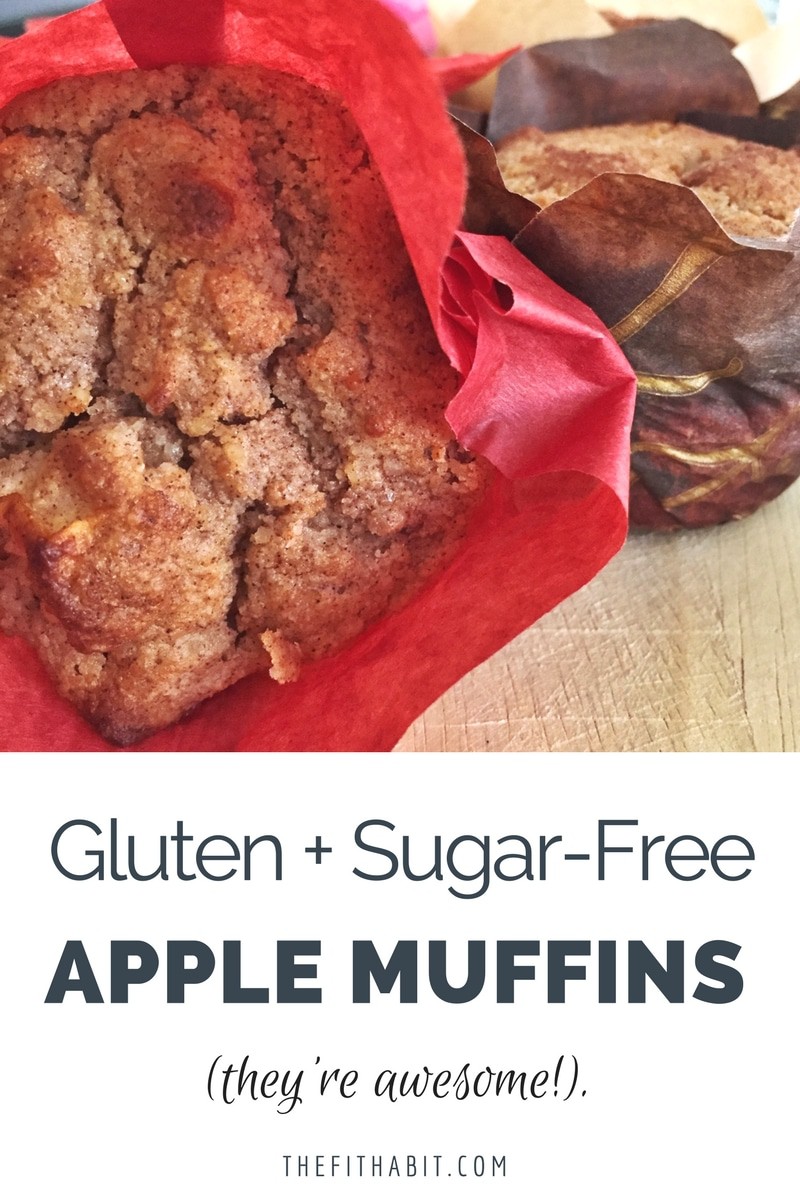 Gluten free, grain free, sugar-free apple cinnamon muffins
So easy to make and delicious to eat!
Ingredients
2

cups

Almond flour

sifted,

1/4

cup

coconut flour

2

teaspoons

baking powder

1/2

cup

of yogurt

I used the 80 calorie coconut Yoplait, Light & Fit kind,

1/2

cup

xylitol

1

teaspoon

stevia

add more to your desired sweetness

2

tablespoons

pumpkin spice

1

teaspoon

vanilla extract

Pinch

sea salt

1/2

cup

milk

I used almond,

3

eggs

1

apple

finely chopped (I left the skin on, but you do you),
Instructions
Preheat oven to 425 degrees;

Combine dry ingredients in one bowl and mix well.

Combine wet ingredients in a separate bowl and make sure they are well mixed, then combine with the dry ingredients.

Mix them together, but don't over stir.

Add apple.

Line a muffin tin with 12 cups and add mixture to the cups.

Bake for 15 mins.

Let sit until they get to room temperature.
Caren is a certified yoga teacher, fitness instructor and author of The Fit Habit.  Here she shares simple, low carb recipes, quick home workout ideas and practical ways to foster mind + body wellness.