Head's up, there might be affiliate links ahead!
Want a super simple egg muffin recipe that's packed with healthy greens and yummy cheese? It's also perfect for low carb and keto diets.

Why you'll love this easy egg muffin recipe
Back when I was training for a fitness competition, I created this recipe because it's super clean and low carb. I also needed something that was grab and go as I was rushing out the door every morning and I didn't want to sustain myself on protein bars. So enter eggs muffins!
I think you'll love how these are the perfect balance between gooey cheese but also healthy greens. They're also very satisfying and easy to grab as you're running out the door in the morning.
Before we get into the recipe, I know what you're wondering, so let's just cover it right now..
How do you reheat egg muffins?
Personally I don't, but if you want to, the best way is to pop them in the toaster oven. That's going to enhance the texture and warm it up from the top down. You can also microwave them, but the results might be sub-optimal.
Why do egg muffins deflate?
The reason most egg muffins deflate is that they lack a starch to give them structure. This recipe is no different unfortunately. Once they are out of the muffin tin and start to cool, they'll start to recede a bit. Personally I don't let this get me down. There are so many other things in life that can bring on sadness. Egg muffins in a tin need not be one of them.
How do you get egg muffins from sticking?
Let them cool for about 10 minutes before you attempt to remove them. That goes for anything that has the potential to stick to a pan. Also, grease your muffin tins really well. You can also use liners if you have them, but they will certainly stick to those as well.
What you'll need to make this egg muffin recipe
eggs (clearly) and egg whites
Broccoli (spinach or kale would also work)
Cottage and cheddar cheese
Onion
Turmeric and mustard seed (or just use whatever spice combo you love best. Be creative here!)
Non-stick spray
Love egg muffin recipes? I've Got Plenty!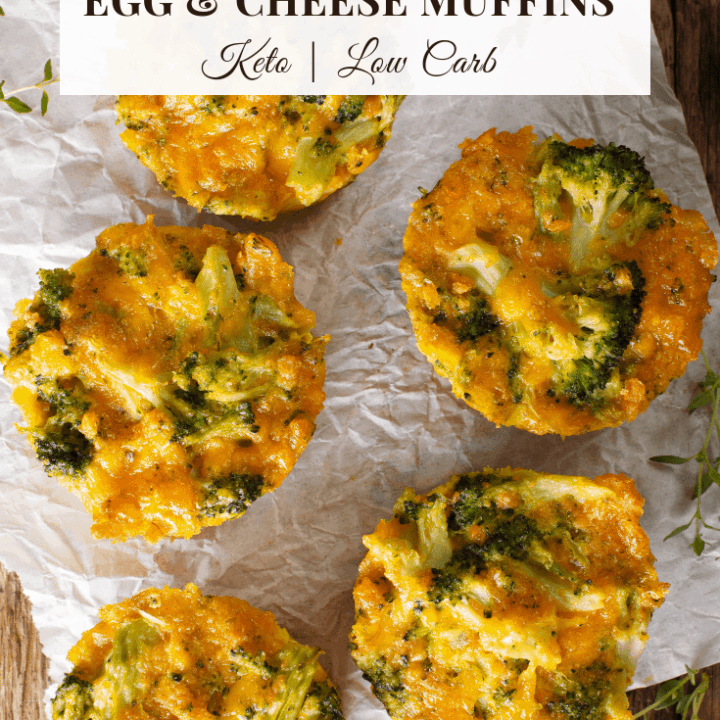 Egg in a Muffin Tin - Low Carb & Keto
A quick egg-based breakfast idea that's super low carb and easy to make. Perfect for meal prep!
Ingredients
1/4 c cottage cheese
1 broccoli, chopped (I used a food processor to get everything chopped real small)
.5 onion, chopped
1/2 c egg whites
3 whole eggs
1 cup shredded cheddar cheese
1/4 teaspoon turmeric
1/4 teaspoon mustard seed (or whatever you want)
salt and pepper
Instructions
Preheat oven to 425 degrees and grease a muffin tin with non-stick spray.
Mix ingredients together in a bowl, and add to a muffin tin.
Bake for 25 minutes or until golden brown.
Let cool 10 minutes before removing from muffin tin.

Recommended Products
As an Amazon Associate and member of other affiliate programs, I earn from qualifying purchases.
Nutrition Information
Yield

12
Serving Size

1 muffin
Amount Per Serving
Calories

68
Total Fat

4.2g
Carbohydrates

1.4g
Net Carbohydrates

1.1g
Fiber

.3g
Protein

5.8g
I use the LoseIT! App to calculate all my recipe nutrition info. Please consider this a rough estimation and not an exact number 🙂