Head's up, there might be affiliate links ahead!
I am not exaggerating here. This macadamia nut butter is truly outstanding.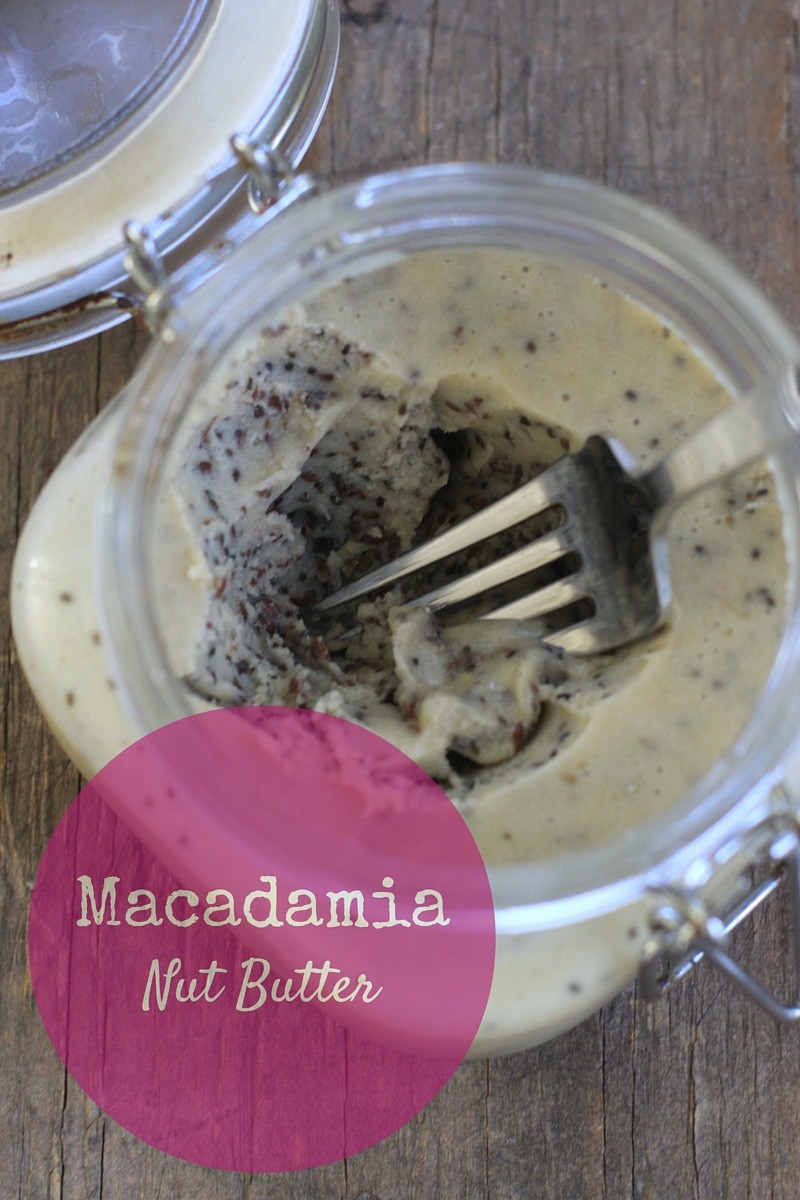 Nut butters are huge right now, especially anything other than peanut butter, which has been demonized by paleophiles and health nerds everywhere.
Peanut butter and I are still on good terms, but sometimes just for shits and giggles, I like to venture out to the crazy world of fancy nut butter.
But the mass-produced stuff never tends to taste as good to me, and as much as I'm in love with the idea of those squeezy little nut butter packs from Justin's, I dislike that he adds sugar to all of them!
Sorry folks, but sugars of any kind – organic, palm, coconut or blessed by a rabbi, is still poison. Since kicking all these sugars to the curb last year, I'm a new woman and I'm not about to let them back in via my nut butter obsession.
So I made my own.
Only I didn't just make nut butter, I made MACADAMIA nut butter with flaxseed, chia seed and coconut oil. This stuff is so freaking health promoting and crazy delicious, it should be illegal. For not only do macadamia nuts have an unparalleled fatty acid profile on its own, the added chia and flax seed makes it off the charts amazing and we're not even talking flavor yet.
Have I hyped this enough yet?
And before you go thinking you'll just buy some next time you're at the market, unless you get a thrill out of paying upwards of $25 for a jar of nut butter, I think you'll want to reconsider the lazy way.
Plus this isn't hard. It's fun. Takes 2 minute and there's also a little Martha Stewart-esque pride in doing it yourself. It makes a nice little crafty gift idea, too (for the tragically non-crafty types like me).
If you're looking for something to eat this with, you could try a protein crepe or low carb english muffin, but really I prefer just to eat it with a spoon right out of the jar.  I think you'll find the flavor stands all on it's own.
Macadamia Nut Butter Recipe - Gluten and Sugar-Free
Probably the best tasting and healthiest nut butter I've ever encountered. If you're doing keto, you need to try this!
Ingredients
10

oz

unsalted macadamia nuts

3

Tablespoons

coconut oil

this stiffens it up

2

tablespoons

flaxseed

2

tablespoons

chia seed

4

tablespoons

protein powder

optional, but I like it that way

Sea salt to taste
Instructions
Whiz everything up in a food processor and pour it into a jar. That's it.

It will take about 24 hours for it to congeal and for the flavors to really come together.
Crazy. Awesome. Stuff.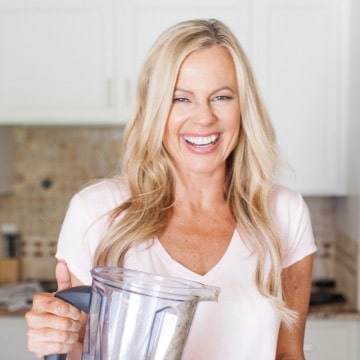 Caren is a certified yoga teacher, fitness instructor and author of The Fit Habit.  Here she shares simple, healthy recipes, home workout ideas and practical ways to foster mind + body wellness.