Head's up, there might be affiliate links ahead!
Love pancakes?  Who doesn't!  You're going to love this healthy, Fit-inspired alternative to traditional pancakes.  It has all of the flavor and texture, but none of the sugar and carbs.  Enjoy!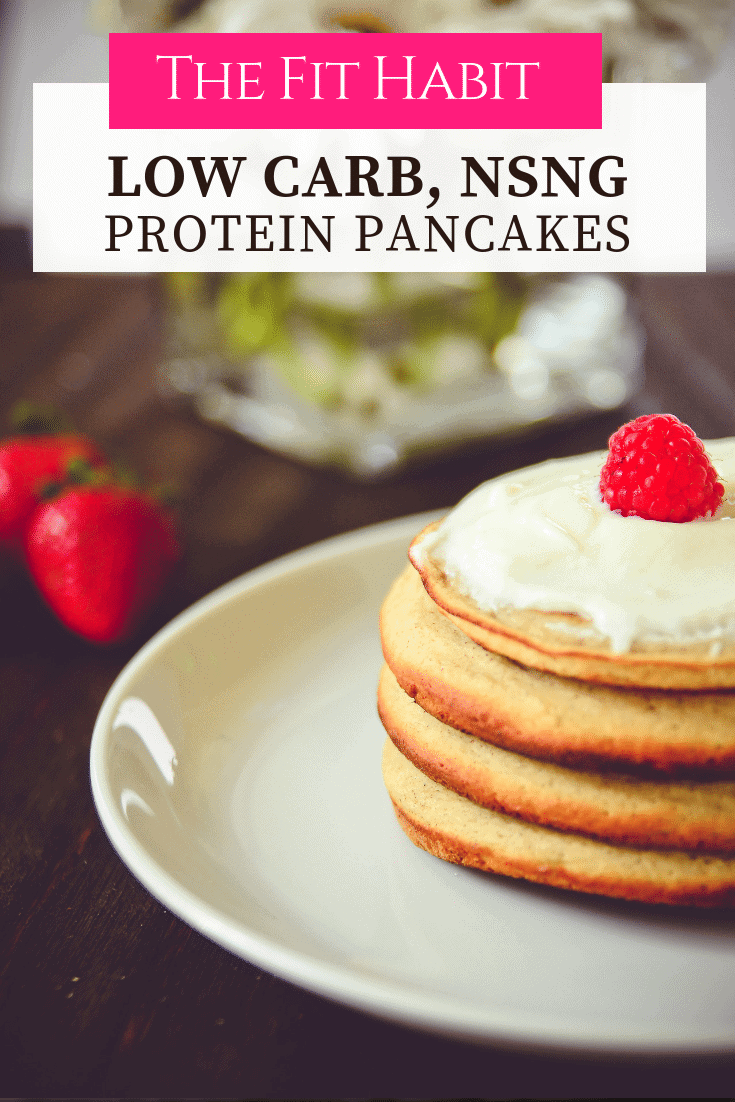 I used to make protein pancakes like it was my job
Actually, it was my job!  I had a protein pancake company for about 3 years.  Man, I put so much blood sweat and tears (many tears) into that company, but it wasn't to be.  I had picked a market I wasn't really that interested in serving (the bodybuilding community) and I had a product that was expensive to make, and hard to scale.  I got to a point where I had to take on investors or cut the cord and while I loved running my own business, it was time to let it go.
That was hard.
But now I'm an expert in protein pancakes and food start ups, so all is not lost 🙂
Meanwhile, it's Saturday afternoon and I've got some time on my hands as I'm sitting up in bed, sick as a dawg.  I was supposed to be entertaining tonight and I created all these great ideas for healthy, clean hors-d'oeuvres.  I even spent the extra time googling how to spell the word hors-d'oeuvres.
However, tonight will not happen.  Well, there will still be a "tonight", but my par-tay is a bust as I'm sick in bed.  But you already know that.  And you've heard me complain about several times this week.  So I've decided to pull this recipe out of the archives to share with ya'll as I'm not feeling up for recipe development at the moment.  It's not the exact recipe of my pancakes from the Procakes days, but it's close.
I made this version of protein pancakes for my husband the other day and he loved them.  If you have kids who struggle to get enough protein in their diets – this idea is a winner winner (better than a) chicken dinner.
BTW, if protein pancakes are your jam, you might also want to check out these recipes as well:
Enjoy!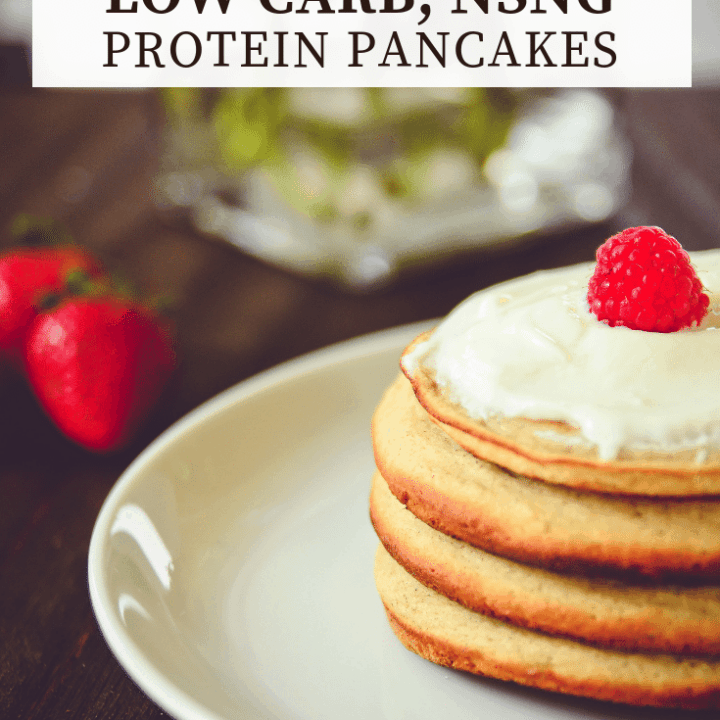 Protein Pancake Recipe - Gluten-Free, Sugar-Free, NSNG
This simple pancake recipe is perfect for managing hunger and cravings throughout the day. To avoid added sugar, I like to eat my pancakes with nut butter, sugar-free syrup or top it with sour cream and a few berries.
Ingredients
2 tablespoons almond flour
2 tablespoons coconut flour
1 scoop vanilla protein powder
½ teaspoon of salt
½ cup coconut or almond milk
½ teaspoon of vanilla extract
1/3 cup of egg whites
½ teaspoon of baking powder
2 sachets of stevia, or more if you like them sweeter
Instructions
Mix dry ingredients in one bowl and wet ingredients in another then combine all the ingredients in whichever bowl is easiest to clean.
Set your pan to medium heat and cover with a light coat of non-stick spray.
Add a pancake-sized dollop of batter to the heated pan and then flip it after it looks like it's ready – about 2 or 3 mins. Cook the other side for another 2 or 3 minutes and serve.
Nutrition Information
Yield

6
Serving Size

6 pancakes
Amount Per Serving
Calories

90
I use the LoseIT! App to calculate all my recipe nutrition info. Please consider this a rough estimation and not an exact number 🙂
Caren is a certified yoga teacher, fitness instructor and author of The Fit Habit.  Here she shares simple, low carb recipes, quick home workout ideas and practical ways to foster mind + body wellness.